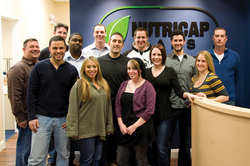 Farmingdale, NY (PRWEB) February 3, 2010
The recent earthquake in Haiti has placed the world's focus on delivering much-needed assistance, food, water and supplies to this devastated nation. Nutricap Labs, a leading provider of nutraceutical services such as contract manufacturing, packaging, labeling and order fulfillment, is partnering with The American Red Cross and donating $10,000 toward the organization's Haiti Relief Effort.
Nutricap is also encouraging its employees to match or beat its donation. Employees can earn a "Dress Down" day by making a donation to the Haiti Relief fund throughout the next few weeks. The company held a similar successful donation rally last summer to benefit the Make A Wish Foundation. Within the past two days since the Haiti Relief Fund was announced, Nutricap employees have raised over four hundred dollars.
In addition to dress down day, Nutricap has launched a food drive to help the Nassau County Haiti Earthquake Relief. The company strongly believes in giving back to the community and will continue to help people in need throughout the country and around the world.
About Nutricap Labs:
Nutricap Labs is a leading full service vitamin supplement manufacturing firm that primarily manufactures nutritional tablets, capsules, powders, liquids and creams. The company has been placed on the 2009 Inc. 500 | 5,000 List and has been ranked as the 42nd fastest-growing private company in America, 4th fastest-growing private company in NY-NJ-PA area, and 3rd fastest-growing, private health company in America. They offer labeling, packaging design services and order fulfillment services to their customers. For information about their full line of nutraceutical manufacturing solutions, visit their website or call 1-800-494-6154 to speak to one of their knowledgeable product advisors.
###