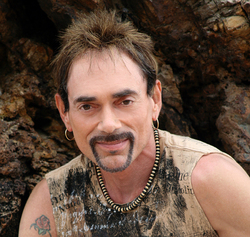 I want to do what I can to keep this issue front-and-center in people's minds.
Nashville, TN (PRWEB) February 2, 2010
Andy Fraser, founding member of the influential 1970's rock group, 'Free,' and writer of their mega-hit "All Right Now," continues to spread the message about global warming and resulting catastrophic climate change through his powerful song and video, "This is the Big One."
Fraser has also made the song available to fans as a world-wide free download in order to help rally attention.
"We initially made the song and video for 'This is the Big One' available on the Internet just prior to the Copenhagen Climate Conference in December 2009 to spread awareness of the issue, and to inspire and cajole listeners into taking action and to raise their voices about Copenhagen," Fraser states.
"Not surprisingly, the barest minimum was achieved at that meeting - so now we have to take the 'long view.' The issue is still with us. The young, more so than older generations, are motivated to make change happen, as it affects their future more than anyone."
"I want to do what I can to keep this issue front-and-center in people's minds. Music is my gift, and thus how I make my contribution," says Fraser.
From his forthcoming album, On Assignment, "This is the Big One" is perhaps the most galvanizing lyrical work of Fraser's career. With a driving rock beat, haunting vocals, and virtuoso slide work from one of music industry's best female guitarists, Kat Dyson (Prince and The New Power Generation), the track hearkens back to the days when music carried messages that entered the social consciousness and helped to spark change.
Fraser's video for "This is The Big One" has received positive response world-wide. Video producer, Eric Donaldson says, "In the video, we look through a ticking clock at both the beauty of our planet and the stress and destruction that man has placed on the earth." He continues, "Whether you come from a political standpoint or not, I think that the message of cleaning up the environment resonates around the world. Whether it's recycling or changing the light bulbs in your home to energy-saving bulbs, I think that the message is a good one."
Gary Walker, writer for the LA based newspaper The Argonaut says of the video: "'This is the Big One' is an anthem to the perils of ignoring global warming as well as a statement about the planet's beauty. It features striking images of sandy beaches, sunsets and cascading waterfalls, juxtaposed with power plants belching flames toward the sky, melting icecaps and rising ocean levels." The video also features Fraser's daughter, Hannah, a professional mermaid, model and graphic designer, swimming with a whale pod near Tonga's Vava'u Islands in the South Pacific Ocean.
Fraser is busy finalizing his forthcoming album, On Assignment, scheduled for spring 2010 release on his record label McTrax International - as well as the long-awaited Alive concert DVD documentary.
View the video for "This is the Big One" here: http://www.youtube.com/watch?v=63qIoGpnrl8
Radio programmers may download an airplay quality copy of "This is the Big One" via AirPlay Direct at: http://airplaydirect.com/music/McTraxInternational/
Free fan download here: http://www.andyfraser.com/bigone.html
To learn more about Andy Fraser, view his online Press Kit at: http://myPPK.com/go/andyfraser.aspx or visit his official website: http://www.andyfraser.com
About Andy Fraser:
Andy Fraser has a unique place in the canon of rock 'n' roll. In the late 1960's, under the tutelage of Alexis Korner and John Mayall - both "Godfather's" of the British blues scene - Fraser, a classically trained pianist, revolutionized the art of bass playing by harnessing the raw energy of the blues, re-energizing it with a hard rock edge for a new generation of listeners.
As a founding member of the seminal group, Free, Fraser helped to draft the blueprint for - and was one of the chief architects of - the blues-rock style that influenced the likes of Led Zeppelin, Foreigner and Foghat. With Free, Fraser wrote and produced some of their most groundbreaking and best-loved songs, including the worldwide hit, "All Right Now," recently honored with BMI's "Million-Air" award for passing 3 million radio/television plays in the U.S., making it one of the most enduring classics of the rock 'n roll era.
A tireless creator and a perfectionist with an eye and ear for detail, Fraser has written a substantial body of works including Robert Palmer's mega-hit "Every Kinda People." His songs have been recorded by Joe Cocker, Chaka Khan, Rod Stewart, Three Dog Night, Etta James and Bob Seger among others. Fraser has also helmed several post-Free bands - notably Shark and the Andy Fraser Band - and has released several solo works, including the albums, Fine, Fine Line and Naked…and Finally Free.
A survivor of both cancer and AIDS, Fraser is a strong environmental and social activist, and defender of individual human rights.
Publicity contact:
Clif Doyal
CDA Promotions-Nashville/OKC
(a division of the Clif Doyal Agency, LLC)
Office: 615.885.5998 Cell: 615.319.1863
E-mail: CDAnashville(at)aol(dot)com
###