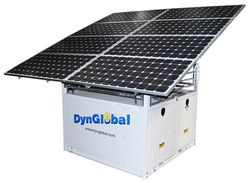 The DG 24/7's ability to provide scalable potable water solutions using renewable energy that is cost effective is unique in today's market.
Newport Beach, CA (PRWEB) February 2, 2010
DynGlobal LLC, a worldwide leader in water purification and renewable energy solutions, is pleased to announce its participation as a featured exhibitor in the 2010 Renewable Energy Technology Conference and Exhibition (RETECH), held this Wednesday, February 3 - Friday, February 5, 2010 at the Washington Convention Center in Washington D.C.
DynGlobal will have on display its full line of scalable water purification products, from point-of-use and household applications to large scale commercial and municipality systems. DynGlobal will also be showcasing its patent-pending DG 24/7 system, a solar-operated water filtration unit ideal for disaster relief and remote areas where power has been comprised or is unavailable.
Several DG 24/7 units have been deployed by DynGlobal to Haiti to aid Project Hope and the Department of Defense (US Navy) on a large scale effort to provide much needed clean water to tens of thousands of needy Haitians in the post-earthquake devastation. Powered completely by the energy of the sun, the DG 24/7 units remove 99.99% of deadly heavy metals like arsenic, mercury, and lead, and provide up to 60,000 liters per unit per day of bacteria, cyst, virus, and pathogen-free potable water using a unique design and filtration system.
"We designed the DG 24/7 specifically for large scale disaster relief and extreme conditions such as this," A. Vernon Wright, CEO and founder of DynGlobal, said in an earlier statement to the press. "The systems are pallet sized for efficient transport, and can be easily installed and running in the field within about 15 minutes. The self-sufficient units can operate 24 hours a day without the need of grid power or even consistent sun exposure. In countries like Haiti where access to clean water and other basic resources is a major challenge, having 'green' solutions isn't just a nice added feature, it's a necessity."
The DG 24/7 is attracting attention with government agencies, utility companies and municipalities, NGOs and relief agencies around the world as a viable and sustainable solution for providing potable water to thousands in both urban and rural environments with little to no ongoing maintenance. The average cost to produce pure water using the DG 24/7 system is about $0.015 per gallon ($0.004 per liter).
"The ability to provide scalable potable water solutions using renewable energy that is cost effective is unique in today's market," states Wright. "We are very grateful to groups like Project Hope and to the U.S. military for their integral support and coordination efforts to help get our DG 24/7 units operating in Haiti, and to other countries and regions in desperate need of this technology."
DynGlobal has the capacity for rapid deployment of its DG 24/7 units to earthquake, tsunami, hurricane, flood, and other natural disaster locations. Countries affected by civil unrest, dislocation and armed conflict, as well as drought-starved regions and those plagued by waterborne diseases such as diarrhea, cholera and polio are being earmarked as key locations for potential DG 24/7 installation.
Learn more about the DG 24/7 system and DynGlobal's renewable energy solutions at http://www.dynglobal.com. Get alerts to water potability problems in the United States and around the world, and read updates on the efforts in Haiti at the DynGlobal blog, http://www.dynglobal.com/blog.
About DynGlobal LLC – DynGlobal is a worldwide leader in water purification and renewable energy solutions for the United States and countries around the globe. Its scalable water filtration systems provide the most purified water on the market today, removing heavy metals like arsenic and lead as well as bacteria, cysts, viruses, and pathogens. DynGlobal has partnered with industry-leading suppliers including GE, Dow Chemical, GenPro Energy, Nimbus Water, Suntech, and Trojan Battery to build its systems. The company works closely with governmental agencies, non-profits and NGOs on providing clean water solutions and aiding disaster relief efforts around the globe. For more information about the company, its solutions and relief efforts, visit http://www.dynglobal.com.
###