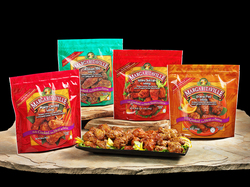 We're really excited about our wings and hope consumers will use the big game as a taste test opportunity
Exeter, NH. (Vocus) February 4, 2010
Margaritaville Foods (http://www.margaritavillefoods.com/) recently announced the launch of the newest addition to the portfolio of island-inspired food and beverage products, Margaritaville chicken wings… and just in time for your big game party.
The Margaritaville Chicken line of products includes 4 flavors of fully cooked, frozen and easy to prepare chicken wings. Each wing flavor is sold in a 28 oz. bag and includes a sauce packet with flavors and spices inspired by Island cuisine. The flavors include Island Buffalo, Mango Chutney, Orange Peel and Caribbean BBQ.
"We're really excited about our wings and hope consumers will use the big game as a taste test opportunity," says Joe Ferraro, Vice President Marketing and Sales. "If you like chicken wings, you'll love these new Caribbean twists on classic flavors. We believe the Margaritaville Chicken line is an excellent complement to our frozen seafood, chips and salsa, salt rimmers and mixers, Paradise Key Teas and Landshark Lager."
Margaritaville Chicken wings are currently available at Safeway, Genuardi's, Von's, Dominick's, Randall's, Tom Thumb, Carr's, Hy-Vee, Bi-Lo, Shoppers, and Johnnie's Foodmaster in the frozen food section.
About Margaritaville Foods
Margaritaville Foods is a leading marketer of restaurant-quality food products to retail consumers. Products include Coconut Shrimp, Caribbean Barbeque Chicken Wings, Mango Salsa, Citrus Green Tea, Margarita Mix, Lime Salt Rimmers and many more. The brand draws its inspiration from the songs of Jimmy Buffett. All products are developed in the kitchens of Margaritaville Restaurants and feature unique island inspired recipes.
# # #