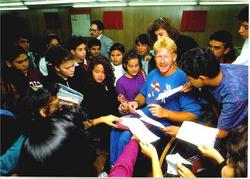 "I am extremely proud to introduce a Senate Resolution on behalf of Kevin Saunders. Despite being badly injured and handicapped in 1981, Kevin has dedicated his life to promoting physical activity and fitness among Kansans of all ages, backgrounds, and a
Topeka, KS (PRWEB) February 9, 2010
Senator Janis Lee Sponsors Senate Resolution supporting Kevin Saunders for Chairman of the President's Council on Physical Fitness & Sports.
The official presentation of the Senate Resolution to Kevin Saunders will be held February 10 at 2:35 PM on the Senate Floor at the State Capitol in Topeka, KS. The resolution supporting Kevin Saunders appointment to chairman of the President's Council on Physical Fitness & Sports was adopted by the Senate body and a copy was sent to the President.
Senator Lee believes that Kevin would serve as the best possible choice to lead the President's Fitness Council as chairman.
"I am extremely proud to introduce a Senate Resolution on behalf of Kevin Saunders. Despite being badly injured and handicapped in 1981, Kevin has dedicated his life to promoting physical activity and fitness among Kansans of all ages, backgrounds, and abilities. Through his advocacy, Kevin has positively touched the lives of countless disabled Americans and serves as a role model to us all." -- Senator Janis Lee
Kevin Saunders isn't just a fitness icon; he is an example of the American spirit in action. Paralyzed from the chest down by one of the worst industrial accidents in our nation's history -- a grain elevator explosion that launched him more than 100 yards and should have left him dead -- he has gone on to become a celebrated athlete, champion, and example for young people everywhere.
While a personal tragedy of that magnitude might have ended the dreams of most people, Kevin has turned his misfortune into a catalyst for self achievement, both in himself and others. Not content to simply accept a limited "life with a disability," he used physical fitness as the tool with which he could reshape his life. Beginning with small, local races, he turned from a young man cut down in his prime to an emerging athletic force, winning regional, national, and eventually international competitions.
It's possible that being a two-time Paralympian and medal winner who in 1990 was named "the world's greatest all-around wheelchair athlete" would be impressive enough. These achievements, however, only scratch the surface. Following his performances in Korea and Spain, Kevin was appointed to the President's Council by George H.W. Bush -- making him the first person with a disability / Paralympian to serve on the council, and the only member reappointed by President Bill Clinton.
At the conclusion of that term, Kevin continued to serve the American people by pushing himself from one end of the country to the other, over 2,500 painstaking miles in all, stopping in cities and towns along the way to hold forums on fitness. He has made it his mission, should he be selected for service on the President's Council again, this time as chairman he plans to visit all 50 states personally and do whatever he can to help Americans enjoy happier, healthier lives. His plan is to spend a minimum of two weeks in each state, not only meeting with political and community leaders, but motivating students to keep daily accountability journals with their short and long term goals for education, fitness and making healthier choices.
As someone with extensive experience on the President's Council, not to mention extensive media exposure and a commitment to health and fitness throughout our nation, Kevin Saunders is the perfect choice for Chairman of President Obama's President's Council Physical Fitness & Sports. He understands exactly what it will take to build a healthier America, and he's committed to doing whatever it takes to create lasting change.
At the state capitol of Kansas there will be many in attendance in support of Kevin Saunders appointment as the next chairman of the President's Fitness Council, one of which will be Kevin's long-time friend and supporter legendary Head Football Coach Bill Snyder of the Kansas State University Wildcats, who orchestrated the greatest turn-around in college football history and possibly all of sports. As Head Coach Bill Snyder said in his letter to President Obama, "Kevin Saunders through is determination, pride and faith in his country, his leadership capacity, his ability to command great respect from his peers, his honesty and loyalty, and the intrinsic value system he has in place, in my eyes become the perfect fit to chair the President's Fitness Council. This country and its youth would profit amazing well from his selection."
Another great supporter of Kevin's is former 2-time Olympic Gold Medalist in the Pole Vault and first person to be featured on the Wheaties box, Bob Richards, who quotes "Mr. President, One of the most heroic and valiant endeavors in the world of sport that I have ever seen is the effort and struggle of Kevin Saunders. Crippled by a blast in a grain elevator and thrown hundreds of feet into a crumpled mass and unbelievably and miraculously fought to survive. Not only living, he resolved to take his crippled body and make a great contribution to life."
Help Kevin Saunders wheel his way to Washington to serve the country as Chair of the President's Council on Physical Fitness and Sport. Visit http://www.KevinSaunders.com, go to the left and under the big blue NEVER GIVE UP! and click on 'Who is Kevin Saunders and why should he be the next Chairman of the President's Council on Physical Fitness & Sports?' Then send a letter to President Obama today.
For any questions please feel free to contact:
Dora Ortiz at Saunders & Associates at info(at)kevinsaunders(dot)com
Website: http://www.KevinSaunders.com (on home page on left side below Olympic torch, below the blue NEVER GIVE UP! Click on pdf link entitled: "Who is Kevin Saunders and why should he be the next chairman of the President's Council on Physical Fitness & Sports?)
PH: 713-686-0077
# # #