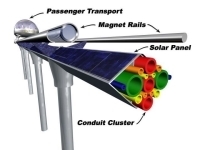 What I see with this company is a virtual tidal wave of industrial growth...
Detroit, MI (PRWEB) February 10, 2010
The Interstate Traveler Company, LLC is pleased to announce some realignments in management that should help us grow and expand our capabilities and markets. In mid 2009 the very hard working Mr. Jay Wilber moved from the Chief Labor Officer position upon the retirement of Mr. William C. Brooks from the position of Chairman. Jay has worked hard to build and develop new networks of affiliated manufacturing companies over the past year and is on a special assignment. This has presented the perfect timing for the equally hard working Mr. Jim M. Jung to move from the Chief Marketing Officer into the Executive position he clearly deserves.
"I am extremely excited to be able to take on this responsibility" said Jung, "I have been working closely with the Founding Partners for several years and have a deep understanding of what this company has been doing since 2003."
Jay, reflecting on the last few years about what he sees in the near future stated the following, "After investing 42 years of my life at General Motors I have seen the ebb and flow of the market, but what I see with this company is a virtual tidal wave of industrial growth. This thing is about to go exponential." With so few people in the market place with his unique experience and talents in the automotive labor relations field, he is a highly prized expert and manager, and is presently working with one of America's largest production companies on acquiring two smaller companies. "I thought I was going to be bored when I retired from GM, but with the HyRail soon to move into production and so many mergers and acquisitions going on behind the scenes in the primary and secondary automotive supplier marketing, I get to see lots of change."
Jack Savas is a great example of American internationalism. As a young man he was an exchange student in Tokyo, Japan and after graduating from Michigan State became an international leader and deal maker for automotive suppliers in the US and Japan. Jack helped the State of Michigan create hundreds of automotive jobs in the 1980's. "After working and living in Tokyo for ten years, I moved to New Zealand and began work immediately at the NZ Ministry Foreign Affairs and Trade on international investments. I have been back to the beautiful 'Zealands' three times in the last four months visiting family and took the opportunity to meet with some of New Zealand's top commercial leaders and the New Zealand Investment group about ITC. Now that Jim has moved to the CEO's chair, I will bring new energy to the Marketing division we are building for our company." Jack acknowledges that the company web infrastructure is outdated and will soon be announcing plans to publish a flashy new site.
The Interstate Traveler Company is a Detroit based developer of Modular Magnetic Levitation Rail networks (Modern High Speed Rail) with embedded municipal conduit and integrated solar panels that enable a self sustaining transit network that is a net energy producer. The Company maintains that the system can and will be built without the necessity of any grants, tax abatement or subsidies from the people, but will actually pay financial benefits through taxes paid off a percentage of anticipated per capita revenue to all legally recognized municipal jurisdictions it passes though, a huge fiscal contribution to government and the needs of the People, when calculated by evaluation of the US Census populations reports on a State by State Basis.
The remarkable technology of the Modular Magnetic Levitation Rail system powered by Solar/Hydrogen Hybrid Energy represents an enormous clean and green transportation advantage for the US and for other countries who purchase a system. Interstate Traveler Company is expecting to begin rolling out HyRail networks internationally over the course of the next couple of years.
###