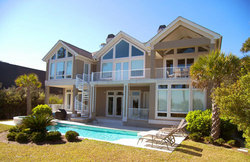 Hilton Head Island, SC (PRWEB) February 10, 2010
With a TV commercial highlighting vacation rentals having aired in Sunday's big game, football fans are discovering why renting vacation homes, condos, villas and cabins is a favorite choice for many versus hotels. Beyond the experiences families and friends build by staying in a home away from home in Hilton Head Island, SC, there are numerous benefits to choosing vacation rentals – sometimes in ways they'd least expect.
Whether trying vacation rentals for the first time or if you're one of the nearly nine in 10 travelers who plan to rent again,* Hilton Head travel and vacation rental expert, General Manager Robert Stenhammer offers the following planning tips and insights as a post-game update for visiting Hilton Head Island, SC:
KNOW YOUR DESTINATION: Whether you are a first-time traveler to Hilton Head or an old pro, it's recommended that you become familiar with the state's special events, seasons and offerings. Some of the most popular activities on Hilton Head Island include deep sea fishing, biking, dolphin tours, kayaking the lagoons, jet skiing Calibogue Sound, spa treatments, shopping at Harbour Town or Shelter Cove Marina, the Coastal Discovery Museum and more. This spring, two of Hilton Head's signature events grace the island: the 25th Annual Hilton Head Food & Wine Festival and the Verizon Heritage Golf Tournament.
LOOK FOR PACKAGES: During certain seasons, vacation rental packages can provide even more value, some with 2-bedrooms starting at just $175 per night, with all of the typical amenities of a resort and more. Search Hilton Head Vacation Specials online to become familiar with various vacation rental types, reservation rates as well as travel specials available in Hilton Head.
AVOID AIRLINE BAGGAGE FEES: Most Hilton Head vacation rentals come equipped with washers and dryers, and ResortQuest Hilton Head Island also provides free laundry detergent and bath amenities. Travelers may choose to use these perks to pack less clothing and toiletries, avoiding commercial airlines' baggage fees and restrictions.
USE SPACE TO YOUR ADVANTAGE: Hilton Head vacation homes and condos can be from 1,000 to more than 7,000 sq. ft., often costing less than a single hotel room by sleeping up to 20 guests versus just a few.
SAVE ON DINING OUT: With full kitchens, and sometimes, outdoor grills, Hilton Head vacation rental travelers often make and store meals and snacks for less, including football favorites like homemade nachos during postseason trips. Use local ingredients and recipes for more memorable mealtimes, like the famous blue crab and succulent shrimp found just off the Hilton Head coast. This also provides healthy travel options, cutting the amount of calories typically consumed while on vacation.
ASK ABOUT AFTER-HOURS SERVICE: When looking into any vacation rental accommodations, check to see if there is an accessible customer service number for emergency needs 24 hours a day, seven days a week, and for after-hour requests. ResortQuest Hiton Head provides a 24-hour guest services line for our customers.
ENTERTAIN FOR FREE: Most of ResortQuest Hilton Head's vacation homes, villa rentals and condos include amenities not found in hotels, some with game rooms, BBQ grills, wireless internet, wet bars, Jacuzzi tubs, private pools and hot tubs, sundecks, outdoor entertainment areas, free DVD rentals, discount golf and free tennis. Many are also in communities with access to bike paths, beachfronts, lagoons, parks, community pools, fitness centers, tennis clubs, golf courses and more.
ASK ABOUT PARTNERSHIPS: Beyond the ability to live like a local on Hilton Head Island, vacation rental guests can also take advantage of our relationships with activity providers, shops, restaurants, tour companies and more. The ResortQuest Hiton Head Recommends Program offers exclusive discounts for ResortQuest guests on over 160 of Hilton Head's most popular activities, shopping, dining and spa vendors.
REMEMBER BIG EVENTS: Whether it's for football championships or national Bowl games, concerts, baseball series', basketball or other events, vacation rentals can save fans from the hassle of finding multiple hotel rooms during big events, and on the cost of multiple reservations.
TRANSPORTATION: Other relationships to remember are those made between vacation rental managers and transportation providers, whether it's rental cars, shuttle services, golf carts, bicycles or more.
For more information on Hilton Head vacation rentals, visit the ResortQuest Hilton Head website at resortquesthiltonhead.com or call 800-875-8726.
About ResortQuest:
ResortQuest, one of the nation's leading vacation rental hospitality and resort real estate companies, provides a one-stop resource in North America's premier resort destinations. ResortQuest is the largest marketer and management company of vacation condominiums and home rentals in the U.S., based on a portfolio of nearly 10,000 vacation rental properties. With the inclusion of Partner Affiliates in North America and Europe, ResortQuest now offers over 100,000 vacation rental choices in over 140 destinations world-wide. With over a billion in sales, ResortQuest Real Estate is one of the nation's leading real estate companies focusing exclusively on resort properties, offering superior brokerage services in the country's premier beach, ski and golf destinations.
###