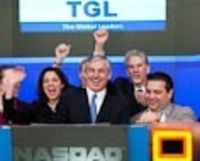 The meeting far exceeded all expectectations.
Greenwich, CT (PRWEB) February 13, 2010
The inaugural meeting of The Global Leaders, an international networking group designed to facilitate the trade of ideas, information, and inspirations across the spheres of business, government, education and philanthropy, was held at the prestigious Yale Club in New York City on February 9th. The meeting had an impressive turnout with over 120 key representatives from across the four spheres attending the event. As Co-Founder George Bickerstaff remarked, "The meeting far exceeded all expectations."
Our first speaker, Frederick Frank, was the former Vice Chairman of both Lehman Brothers and Barclay's Capital, and is the current Vice Chairman of PJ Solomon and Company. He has provided investment banking services to companies in the pharmaceutical and biotechnology industries, and has been involved in hundreds of financings and mergers and acquisitions transactions in the global health care industry. Mr. Frank gave an insightful and stimulating talk on capital markets, with a focus on the pharmaceutical and biotechnology industries and the possibilities they have going forward.
The second speaker was Ambassador Kamal, who served as a professional diplomat in the Ministry of Foreign Affairs of Pakistan for close to forty years. He continues to be a Senior Fellow of the United Nations Institute of Training and Research and he is the Founding President and CEO of the Ambassador's Club at the United Nations. In addition, Ambassador Kamal is a Visiting Professor at six universities in the United States. His speech on globalization and the change engendered by emerging markets was topical and thought-provoking.
The morning after the meeting, February 10th, The Global Leaders were honored at the Opening Bell Ceremony at NASDAQ. Co-Founder George Bickerstaff made a brief speech about the inaugural meeting and rang the opening bell. The ceremony was aired on BNN, Fox, Fox Business, and CNBC. To read the press release and view photos of the ceremony visit http://www.nasdaq.com. The video clip of the Opening Bell Ceremony will soon be uploaded to The Global Leaders' website, which can be found at http://www.tgleaders.com.
About The Global Leaders
The Global Leaders was founded in 2009 to enable people to find and network with their global peers. Our hope is that the network we build will allow our members and their organizations to achieve their goals and objectives through collaborative wisdom, work, and wealth. The Global Leaders aims to connect people across the four pillars of business, government, education, and philanthropy by providing opportunities, such as this meeting, for members to meet face-to-face, network, and discuss our collective and individual impact.
Thus far, The Global Leaders comprises 15,000 active members in 150 industries and 160 countries. Our members lead or have led over 10,800 companies, that employ more than 28 million people, with revenue exceeding $7.7 trillion and assets of over $56 trillion. As a reference, global GDP is $60 trillion.
Contact Information:
George Bickerstaff
Co-Founder
(203) 570-0478
gbickerstaff(at)the-global-leaders(dot)com
Caroline Frey
Associate
(203) 919-1272
cfrey(at)the-global-leaders(dot)com
# # #