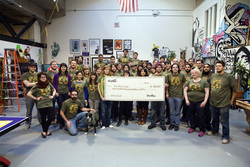 Chicago, IL (PRWEB) February 17, 2010
The popular t-shirt design community Threadless.com has joined forces with the American Red Cross to raise money for Haiti relief through the sale of the Many Hands Make the Load Lighter tee. Created by Dominican Republic designers Thomas De Santis and Ivan Tarrazo Sanchez, the shirt reads "Men anpil chay pa lou" which translates to "Many Hands Make the Load Lighter". Threadless is today donating $100,000 to the American Red Cross Haiti Relief and Development Fund, 100% of the proceeds on the 10,000 shirts sold to date. Threadless intends to continue printing and selling the Haiti tee through at least mid-March, donating all additional proceeds to the Fund.
Inspired by Haitian street art, the "Many Hands Make the Load Lighter" tee was designed to capture the true sense of daily Haitian life and community. "We hope that the money raised with the tee we raise the awareness as to the importance, not only of immediate assistance, but of the creation of the infrastructure needed to respond in similar crises," said designers De Santis and Sanchez.
Threadless has been thrilled with the response from both individuals and groups. Creekwood Middle School in Kingwood, Texas purchased 750 tees, a $7,500 donation, to sell at a school fundraiser. "Our Superintendent challenged the entire school district to raise at least one dollar per student in the district (about 35,000). Each school came up with their own idea on how to raise the money and help out the Red Cross," said Amanda Frederick, 7th grade History teacher at Creekwood Middle School. "As soon as I saw the Many Hands tee, I knew it would be a great way to help out. Our school is very involved in service learning and this is just one way we're able to help others and learn about what's going on in the world."
Ross Zietz, Art Director at Threadless came up with the idea to create the tee. He says, "After Hurricane Katrina, Jake Nickell, (Founder and CSO of Threadless) allowed me to design a shirt to raise money for relief of the destruction of my home state. We were able to raise just over $100,000 for Red Cross Katrina Relief. This made me realize that our humble t-shirt community could raise a nice chunk of change for a worthy cause. So when I heard about the destruction of the Haitian earthquake I got the idea of doing another t-shirt fundraiser. We contacted two community members and designers from neighboring Dominican Republic to see if they would design a tee. They jumped at the chance."
To purchase the "Many Hands Make the Load Lighter Tee" in adult and kids sizes and to learn more about the creation visit the product page at: http://www.threadless.com/product/2191/Many_Hands_Make_the_Load_Lighter.
About the American Red Cross:
The American Red Cross shelters, feeds and provides emotional support to victims of disasters; supplies nearly half of the nation's blood; teaches lifesaving skills; provides international humanitarian aid; and supports military members and their families. The Red Cross is a charitable organization — not a government agency — and depends on volunteers and the generosity of the American public to perform its mission. For more information, please visit http://www.redcross.org or join their blog at http://blog.redcross.org.
About Threadless:
We're not your average t-shirt company. The designs on Threadless tees are sourced from an ongoing open-call for t-shirt submissions from a worldwide community of amazing artists and designers. Once submitted, our community of over 1 million members casts votes that help decide which designs become Threadless tees. Threadless began in 2000 as a hobby and has since become the poster child for the power of crowdsourcing: integrating the involvement of a passionate, authentic and highly active community into every aspect of our business. In other words, we're all awesome together! Join the awesomeness at http://www.threadless.com.
###