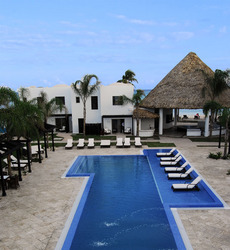 Houston, TX (PRWEB) February 24, 2010
Las Terrazas (http://www.lasterrazasresort.com) was recently featured on the Home and Garden Television Network (http://www.hgtv.com) program 'House Hunters International.'
The 4.8-acre community of beachfront condos, villas and a resort at Las Terrazas opened in the spring of 2008 on the island of Ambergris Caye in Belize. Residents at Las Terrazas enjoy luxurious yet laid-back island living and this Belize resort has quickly become one of the country's most sought-after destinations. Each residential villa has been fully furnished and handsomely appointed with stainless steel appliances, granite countertops, flat-panel televisions and everything necessary for new owners to enjoy immediate occupancy.
The episode on HGTV, that featured Las Terrazas, aired in January of 2010 and followed real life vacation home hunters from Calgary Canada on a mission to find the best vacation condominium in Belize. Out of the many Belizean condos and vacation properties that were researched for this episode, Las Terrazas was thrilled to discover that House Hunters had decided to include one of their condos in the episode's top three selections. Beyond that, the vacation home hunters from Canada declared on the HGTV episode that the Las Terrazas condo was their top selection and what they ultimately purchased (see how the homebuyers on House Hunters International reached their decision at: http://www.hgtv.com/videos/belize-escape/47268.html).
Among the many factors contributing to their final decision, the House Hunters were most impressed with Las Terrazas' condo furnishings, kitchen appliances, incredible on-site infinity pool and proximity to the turquoise waters of the Caribbean sea.
"We spent a lot of time on the layout of our grounds, the décor and furnishings of the condos and the overall ambiance of the condominium development," said Carolyn Stone, Director of Sales at Las Terrazas, "it's always great to hear our attention to detail and customer satisfaction is appreciated and stacks up with any other development here in Belize."
But beyond simply choosing Las Terrazas for the condos décor and resorts amenities, the House Hunter's were also impressed by the cost: $279,000. For less than what most luxury condos cost state side, a condominium at Las Terrazas comes fully equipped and furnished, and with the added bonus of white sand beaches right outside your door, an on site 5-star PADI certified dive shop adjacent to the largest barrier reef in the Northern Hemisphere, on site fine dining, and an overall resort like atmosphere with 24 hour concierge and room service options.
"Our condo owners benefit from Las Terrazas also operating as a world class luxury oceanfront resort in Belize that is the only member of the Preferred Hotel Group within the country of Belize," Stone went on, "they get to enjoy year-round, the benefits of the vacation paradise we offer to travelers who are usually only here for a few days."
In fact, Belize is quickly becoming one of the premiere tropical vacation destinations in the world. Each year, tens of thousands of vacationers flock to the popular island of Ambergris Caye in Belize to scuba dive, honeymoon, hike, or just get away for a little while. The nation's warm water oceans, tropical forests and ancient Mayan ruins are enough to keep even the most adventurous travelers occupied. As the number of travelers interested in adventure travel and sustainable travel continues to skyrocket, so does their interest in Belize.
As enthusiastic as Las Terrazas is about being featured on HGTV, they also know the program only scratched the surface of what the community has to offer. "We're excited that the House Hunters helped spread the word about the great vacation condos and residences that we offer here," Stone continued, "but when you include our PADI dive team, our excursions to ancient Mayan ruins, our complimentary use kayaks and hobie cats - we're so much more than just a beautiful place to live or visit. I don't even think the TV crew could fully capture all the opportunities we've got going on here and as our website states, living here really is a 'natural way of life'."
To learn more about current condo and vacation home availability at Las Terrazas visit http://www.lasterrazasbelize.com. House Hunters International can be seen weekdays at 10:00 PM (ET) on the HGTV network, or online shortly after their original air date.
About Las Terrazas Resort and Residences in Belize:
Las Terrazas, a five-star Caribbean luxury resort and residential development on the island of Ambergris Caye in Belize features 38 magnificent one, two and three bedroom townhomes. The units include balconies, some with private plunge pools, as well as exquisite furniture handcrafted from Belizean wood, spacious kitchens with granite countertops and Kitchen Aid appliances, large plasma TV's in each living room and master bedroom, telephones, DVD players, i-pod docking stations, surround sound and high speed internet access. Las Terrazas is located on the largest private beachfront on the island, has a 70' infinity lap pool, fitness center and the Serenity Spa and Wellness Center. On site Concierge is able to assist with an array of island and mainland excursions including dive and snorkel trips with White Sands Dive Shop; a PADI 5-star facility. Las Terrazas Resort is a member of Preferred Boutique and the only member of Preferred Hotel Group in Belize. The resort is also a member of Sustainable Travel International. For more information or reservations visit one of our two websites (http://www.lasterrazasresort.com or http://www.lasterrazasbelize.com) or call toll free 1-800-447-1553.
Contact Information:
Carolyn Stone, Director of Sales
Las Terrazas Resort and Residences
800-447-1553
###