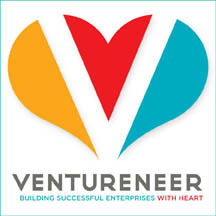 With minimal investment of time and money, the entrepreneur or small business owner will finish this Vcourse with an effective, useful business plan to guide growth and attract funding. Geri Stengel, President, Ventureneer
New York, NY (Vocus) February 23, 2010
Don't go into the jungle without a map!
A high-quality business plan is the map business owners need to start or grow their businesses. While not every turn in the road needs to be mapped, smart business owners know the direction they're going, the obstacles that may crop up -- obstacles always crop up! -- and what they'll need to reach their goal.
A well thought out plan gives the small business owner a road map to success and helps attract investors. In Ventureneer's Business Plan Essentials virtual course, small business owners and entrepreneurs will get university-level instruction, develop their own business plan, and participate in an online peer advisory group, for an investment of time and money that even the smallest business can afford.
Entrepreneurs and small business owners, especially start-ups, may not have the money to hire a consultant or may want to "own" their business plan by writing it themselves. But they can't take the risk of just muddling through and hoping to get it right. It has to be right!
"With minimal investment of time and money, the entrepreneur or small business owner will finish this Vcourse with an effective, useful business plan to guide growth and attract funding," says Geri Stengel, Ventureneer founder and course instructor. "The Vcourse combines the ease and convenience of surfing the web with the high-quality material and peer networking of a university course."
Business Plan Essentials is an 8-session virtual course that takes the entrepreneur step-by-step through a process Stengel developed after working with students at The New School for the past four years and working with dot.com companies looking for financing for many years before that.
"Geri taught an excellent course in entrepreneurship at The New School. Each week's meeting felt like an informal board meeting with Geri expertly moderating discussion among the budding entrepreneurs," says Eric Schwartz, president and CEO of President and Chief Executive Officer at Validus Aviation. "She added wonderful insight from her years of experience and wealth of knowledge."
In this hands-on, interactive Vcourse, entrepreneurs will get step-by-step instruction in developing and presenting a business plan. Concepts will be clearly presented in a straight-forward, easy-to-understand style. And, because entrepreneurs learn best from other entrepreneurs, participants will get to know their classmates and will discuss issues and ideas through a facilitated LinkedIn Discussion Group.
Participants will learn to:

Describe a business so it shines brightly.
Identify and meet the needs of the market.
Demonstrate sustainable, competitive advantage.
Determine who they're trying to reach, how they will reach them, and what they will say.
Address ways to keep the business up and running efficiently .
Focus on why the management team will succeed.
Develop credible financials.
Each week, students will work on one part of their business plan. They will get feedback from the instructor and from peers. By the end of the Vcourse, each entrepreneur will have a draft business plan to guide growth and, if needed, attract investors.
"Working with Geri has been rewarding and fun because she is academic, without being patronizing," says Holly Shapiro, owner of Prince & Fields apparel. "She is always well versed and well read, and she mentors those she works with. She stimulates other ways of looking at projects."
Sure, a Vcourse is an investment of time and money. But it's better to invest in a road map than get lost in the jungle.
Small business owners and entrepreneurs will benefit from this $440 Vcourse, which will be held on Thursdays, March 18, 25, April 1, 8, 15, 22, 29 and May 6 from 12 noon to 1 p.m. EST.
For more information or to register, go to Ventureneer's website.
About Geri Stengel
Geri is founder of Ventureneer, an online education and peer support service. An adjunct professor at The New School, she honed her online experience at companies like Dow Jones and Physicians' Online. Geri co-founded the Women's Leadership Exchange and is president of Stengel Solutions, a consulting service for social-impact organizations.
About Ventureneer
Ventureneer.com provides nonprofit and small business advice as well as entrepreneurial and nonprofit training through a new approach to learning: a blend of traditional, formal instruction with informal, peer learning that takes advantage of Web 2.0 technology to capture and share knowledge. Ventureneer's customized blogs, virtual classes, peer-to-peer learning, coaching, web events and articles help entrepreneurs make faster, better decisions for their enterprises.
Geri Stengel
212-362-3088
geri(at)ventureneer(dot)com
###