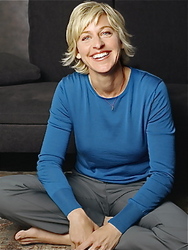 "I encourage you all the way, you're gonna be great! Good Luck, Steve!"
San Diego, CA (PRWEB) February 23, 2010
Ellen DeGeneres doesn't have a lot of time on her hands, so when she lends her name, image, and video endorsement to a cause, it means something. Her testimonial for Wampler Foundation isn't just a by-the-numbers celebrity turn. It's the real thing. She fully endorses the work of the Foundation and the commitment of Steve and Elizabeth Wampler have made to the kids with disabilities they help.
Inspired by Steve Wampler, who despite being disabled by Cerebral Palsy since birth, has been helping kids with disabilities for years, many well know performers are lining up to provide video testimonials to support the work of the Foundation. Ellen is just the latest internationally known figure to lend become interested in the Foundation's work.
To further his foundation's work, Steve will soon become the first person with Cerebral Palsy to climb Yosemite National Park's fabled El Capitan peak. It will take 6 days to scale a vertical granite face twice the height of the Empire State Building. Not only are noted celebrities like Elle, Will Farrell, Paul Reiser and others cheering Steve on but many national corporations and individual donors are also making contributions. Ellen speaks for many when she says: "I'm so excited with [your] challenge. "I encourage you all the way, you're gonna be great! Good Luck, Steve!"
Steve's endurance training and personal commitment is typical of the character of a man dedicated to funding challenging programs to enrich the lives of kids with physical disabilities. His will power, athleticism and sheer guts, is something everyone can admire and applaud. He has been an environmental engineer, a successful entrepreneur, a devoted father and husband, and a leader in his community of Coronado, California. He and his wife Elizabeth have now made a decision to go national with their long-standing efforts to improve the lives of kids who faced challenges much like those Steve grew up with. Now, through the efforts of The Stephen J. Wampler Foundation, Steve's life-affirming vision will be brought to a wider audience. You can learn more about the Foundation's work by visiting http://www.wamplerfoundation.org.
According to Steve Wampler, Ellen's endorsement is a major step in the Foundation's effort to get the word out and gain the financial support that will enrich the lives of so many kids. "This is so important to getting our message out to more people than we could ever reach without her help. Sure, it's an ego boost to have the attention of people like Ellen and the others. But that's not what matters. The kids are."
Elizabeth Wampler, co-founder of the Foundation, as well as Steve's wife and biggest cheerleader, adds, "The support we are receiving has been so important. We are so grateful to everyone. It's like having a magnifying glass focusing on all of the work we are doing! And this support is more than just a nod in our direction. These people are really involved!"
About the Wampler Foundation
The Stephen J. Wampler Foundation provides outdoor wilderness programs to physically disabled children and teens in an environment where they are challenged to learn new physical, mental, and social skills. The Foundation is also involved in other areas that support physically challenged youth—from providing individual guidance to developing green vacation housing for disabled youth and their families.
Steve Wampler, as an example as someone who has created a meaningful and productive life despite being disabled by Cerebral Palsy, serves as an inspiration to young people who have experienced his life-changing programs or know his personal story. His record of accomplishment also has a profound effect on their families and the Foundation's supporters. His leadership and vision is the driving force behind the Foundation and has been a key factor in its success thus far.
The Stephen J. Wampler Foundation's goal is to help as many children with physical disabilities as possible have the same opportunity that Steve had to achieve independence and realize their full potential. All sponsored programs promote the self-reliance, responsibility, and confidence they will need to succeed. The "Wampler Kids" are given a chance to have an experience that will change their lives.
###