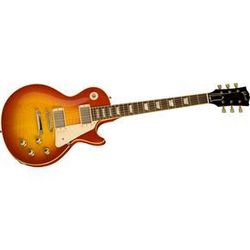 Medford, OR (PRWEB) February 25, 2010
Direct seller of music gear Musician's Friend proudly offers three variations of Gibson Custom 50th Anniversary 1960 Les Paul Guitars released this month to commemorate the last original production year for the Les Paul "Burst" guitar.
The Gibson 1960 Les Paul guitar has been played by many famous musicians—John Fogerty (Creedence Clearwater Revival), Howard Leese (Heart/Bad Company), Paul McCartney (Beatles), and Paul Kossoff on the rock classic "All Right Now" among them—and has secured its spot as a well-loved mainstay in many artists' collections.
Appealing sunburst finishes, top-hat control knobs, and characteristic neck profiles are part of the package; and the subtle differences among the three variations narrate how the specs evolved over the course of 1960.
Gibson Custom Les Paul - Version 1
At the start of 1960, the Gibson Les Paul retained the same specs as its predecessor from 1959, although it did receive the official "Les Paul Standard" designation in place of the former "Les Paul Model" (a name that its headstock nonetheless still retained). So the first version of the 50th Anniversary 1960 Les Paul Standard Electric Guitar might be confused for a 1959 Les Paul Model if not for the 1960 serial number stamped into the back of the guitar's headstock at the dawn of the decade, and the R0 serial number of this 50th Anniversary model. It's available in Heritage Cherry Sunburst and Heritage Dark Burst finishes.
Gibson Custom Les Paul - Version 2
Available from Musician's Friend now, the Gibson Custom 50th Anniversary Les Paul Standard Guitar represents the neck's transition from full to slim. This progression was gradual, rather than sudden—in the form of a Custom Shop 50th Anniversary Gibson Les Paul with thinner, yet still somewhat rounded and "elliptical" neck profile, based on painstaking research and detailed scans of several transitional '60s Les Paul electric guitars that were studied by the Custom Historic and Engineering team. To represent this alteration visibly, Version 2 of the 1960 Gibson Les Paul is offered in two classic "faded" Burst colors: Light Iced Tea Burst and Sunset Tea Burst.
Gibson Custom Les Paul - Version 3
The third variation of Gibson Custom 50th Anniversary 1960 Les Paul Electric Guitar Regular '60s Cherryburst is represented by a guitar with the slim-taper neck for which late-'60 Les Pauls have become famous, along with the double-band tuners and gold top-hat control knobs with the "new" silver inserts that were fitted to these guitars. Furthermore, Version 3 accurately represents the changes in the finishing process at Gibson in the latter part of 1960—in its more vibrant, colorfast Cherry Sunburst, a finish that stood the test of time somewhat better than many of the sunbursts that preceded it.
These Gibson guitars all come with a Custom Shop hardshell case and a 50th Anniversary Certificate of Authenticity.
About Musician's Friend:
Musician's Friend, Inc. is the world's largest direct marketer of musical instruments and has been headquartered in Medford, Oregon, since its inception in 1983. With more than 70,000 unique products for sale, the company covers a wide range of musical needs, including guitars, basses, amplifiers, keyboards, live sound, recording equipment, drums, percussion, woodwind, brasswind, and orchestral stringed instruments, as well as related accessories that are marketed through its print catalogs and websites, including musiciansfriend.com.
The Musician's Friend website also offers informative musicians' resources, including in-depth buying guides, tech tips, hands-on gear reviews, articles from highly respected music industry professionals, interviews with well-known artists, and 860,000 customer-written product reviews and ratings.
With warehousing in Kansas City, Missouri, and a call center in Salt Lake City, Utah, Musician's Friend can be contacted at 800-776-5173.
Musician's Friend is a wholly owned subsidiary of Guitar Center, the world's leading retailer of musical equipment.
###