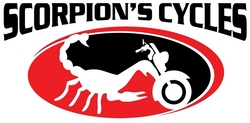 Where Dreams and Reality Meet!
Duluth, GA (PRWEB) March 2, 2010
The grand opening of Scorpion's Cycles full service Sales, Service and Customizing shop is scheduled for May 1st through 5th 2010, Cinco de Mayo.
Prominently planned for the shop are many features for the ladies, including a new line up of safety riding apparel designed with high fashion in mind. Also, not to be missed is the Pink Spyder chopper. There's nothing else like it.
Tired of watching that gas gauge? Scorpion's Cycles has brand new motorcycles that get 60-65 mpg for an 'out the door price' of around $5,000. Now that's a lot of s.p.g., (smiles per gallon)
Whether it's a weekend bike ride or week long motorcycle tour of the mountains, Scorpion's Cycles offer more fun for the buck. Whether a beginner, novice or pro, they have a bike for that. If you are looking for a new bike but you're not sure which one? Take advantage of the "Rent it Before You Buy it" program. Delivery to the DMV test site, your home, hotel, office or the local airport is available (charges apply) or just pick it up.
There is a passion here for all things motorcycle: sales, customizing, rentals, and service. In the Atlanta Georgia Metro area, come by the shop and check them out. According to co-owner Benny Griffis, "We service any brand and sell new 'Alternative Cruisers' as well as a great selection of used, rebuilt, and custom motorcycles. In the Service/Customization department, our motto is "You dream it, we'll build it."
Check them out at http://www.scorpion-cycles.com There is also a Rider's Apparel Shop at http://www.scorpion-cycles.us Use code 929774 for a 20% discount!
# # #