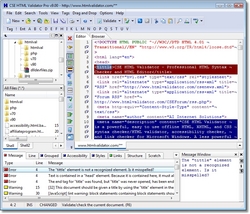 We cannot live without this product now, and we fully recommend it, especially as the search engines are starting to place emphasis on well-written pages.
Argyle, TX (PRWEB) March 2, 2010
AI Internet Solutions announces a free public BETA until August 1, 2010 for CSE HTML Validator Professional version 10.0 with support for the new upcoming HTML5 and CSS3 standards. Anyone can download the BETA release from http://www.htmlvalidator.com/freebeta and use it for free without functional limitation until August 1, 2010.
Check HTML5, CSS3, and More
More websites are taking advantage of new HTML5 and CSS3 features, requiring updated tools to support new HTML5 tags and new CSS3 properties. CSE HTML Validator will check many of these new tags and properties and will also find HTML, XHTML, and CSS syntax errors and other problems that can cause visitors to abandon a website. Common website problems that are found by the software include broken links, missing HTML tags and attributes, misspelled tags, misplaced tags, missing or extra end tags, incorrect attribute values, bad table structures and much more.
Customer Comments
CSE HTML Validator receives many positive user comments. Tamer Shafik says that "CSE HTML Validator is a simple to use, feature-rich and flexible, validation software which enables the super-quick checking of code for errors (and helps you fix them!). We cannot live without this product now, and we fully recommend it, especially as the search engines are starting to place emphasis on well-written pages. Thank you!"
Gary Elfring, another CSE HTML Validator user states "I test with Opera, Chrome, Firefox and IE. If there are problems it is almost always a difference between IE and all the other browsers. And the problem is almost always fixed by verifying the html and CSS code using CSE HTML Validator. Fix the errors and the problems are usually gone."
Standard and Professional Editions
Standard and professional editions are available starting at $69 for a single license. These editions offer thorough HTML and XHTML syntax checking as well as CSS syntax checking, link checking, spell checking and accessibility checking. Also provided are suggestions to help increase a web page's search engine rankings. Dynamic sites made with ASP and PHP scripting languages can be easily checked by using the integrated web browser to browse the site while the HTML source is simultaneously displayed and checked. The professional edition includes a tool to scan an entire website. A free trial is available. Educational discounts, multiple license discounts and site licenses are also available.
30-Day Money-Back Guarantee
AI Internet Solutions stands behind their products with a 30-day money-back guarantee.
An Online Edition at OnlineWebCheck.com
An online version that uses the lite edition is available at http://www.onlinewebcheck.com/. The online version can check URLs, uploaded files, or pasted-in snippets or complete documents.
Software Compatibility
CSE HTML Validator is compatible with Microsoft Windows XP, Vista, and Windows 7. It supports HTML, XHTML, and CSS specifications and includes support for browser extensions if the web developer wishes to use them. For more information visit http://www.htmlvalidator.com.
###