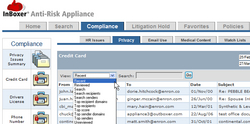 a perfect five star rating, because it truly is a first rate product
Burlington, MA (PRWEB) March 4, 2010
MSExchange.org, the leading Microsoft Exchange Server resource site, today issued its prestigious Gold Award in the Microsoft Exchange Email Archive and Storage category and a "perfect five star rating" to the InBoxer Anti-Risk Appliance. The award was issued simultaneously with an InBoxer Anti-Risk Appliance review written by, Brian M. Posey, six time winner of Microsoft's MVP award and recognized Microsoft Exchange expert.
"I am always reluctant to give the products that I review a perfect score, because I fear that perfect scores will be perceived as personal bias. In this case though, I have to give the InBoxer Anti-Risk Appliance a perfect five star rating, because it truly is a first rate product," said Posey.
In the review, Posey specifically cited the following:

"a solid and reliable product"
"very intuitive, and the feature set seemed to be very well thought out"
"returned my search results very quickly, even when I searched on something that was outside of the norm"
The email archiving product review includes a review of electronic discovery, content monitoring, and message intelligence features.
"Only outstanding products receive the MSExchange.org Gold award. In winning this, the InBoxer Anti-Risk Appliance has distinguished itself as a solid, innovative, and essential product for Microsoft Exchange," said Sean Buttigieg, Managing Director, TechGenix, the publisher of MSExchange.org.
About InBoxer
InBoxer (Safecore, Inc.), named by Inc. Magazine as one of the nation's fastest growing private companies, is a leader in messaging intelligence with IM and email archiving, electronic discovery and content monitoring capabilities. Customers are located on six continents and include Fortune 50 companies, more than 50 hedge funds, financial services firms, health care organizations, K-12 schools, local government, life sciences, transportation, and manufacturing companies. The InBoxer Anti-Risk Appliance is available as a hardware appliance, VMWare virtual appliance, or as a hosted appliance.
Copyright © 2010 Safecore, Inc. All rights reserved. InBoxer is a registered trademark of Safecore, Inc. Other marks are registered trademarks, trademarks or service marks of their respective owners.
# # #