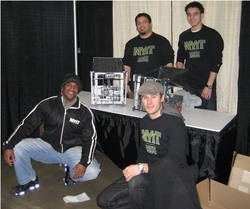 The Vex Robotics Competition is one of many challenges that bring out the best in our students – enthusiasm, leadership, creativity, and school pride.
Old Westbury, N.Y. (Vocus) March 4, 2010
New York Institute of Technology's (NYIT) team of engineering students captured first place at a regional Vex Robotics Competition contest held in Baltimore, Md., Feb. 20 - 21.
After several months of preparation, the students won all matches and the award for best design in the 2009-2010 competition, called the "Clean Sweep." The team members – who were selected to participate by NYIT's Institute of Electrical and Electronics Engineers (IEEE) chapter – designed, built, and programmed an innovative, autonomous remote-controlled robot that scored the highest number of points in this event.
"The Vex Robotics Competition is one of many challenges that bring out the best in our students – enthusiasm, leadership, creativity, and school pride," said Nada Anid, Ph.D., dean of NYIT's School of Engineering and Computing Sciences. "I am extremely proud of them, and I wish them success in the upcoming Vex Robotics World Championships in April."
Team members included engineering students Paul Ulezeko (B.S.'10, IEEE president); Robert P. Roman (B.S. '11, IEEE vice president); Anthony Brown (B.S. '11, IEEE secretary); and Robert Domingo (M.S. '11). "Our school has been so supportive of our efforts, including sponsorship of our trips," said Ulezeko. "We hope our win in Baltimore will inspire fellow and future NYIT student engineers."
The Vex Robotics Competition is a year-round event that attracts thousands of participants from around the world at the middle school, high school, and college levels. The Clean Sweep competition consists of two alliances–one "red" and one "blue"–composed of two teams each, competing in matches. The objective is to place as many game pieces on the opponents' side of the field as possible within an allotted time. At the college level, the robots must perform autonomously for 80 seconds followed by 60 seconds of remote control. Each team had free range to design, build, and execute the task, and the format encouraged the use of mechanical, electrical, and computer science engineering.
The NYIT team will compete next at the Vex Robotics World Championship in Dallas on April 22 - 24.
About NYIT
NYIT is the college of choice for more than 15,000 students enrolled in more than 90 specialized courses of study leading to undergraduate, graduate, and professional degrees in academic areas such as architecture and design; arts and sciences; education; engineering and computing sciences; health professions; management; and osteopathic medicine. As a private, nonprofit, independent institution of higher learning, NYIT embraces an educational philosophy of career-oriented professional education for all qualified students and supports applications-oriented research to benefit the greater global community. Students attend classes at NYIT's campuses in Manhattan and Long Island, as well as online and in a number of programs throughout the world. To date, more than 81,500 alumni have earned degrees at NYIT. For more information, visit http://www.nyit.edu.
Contact: Lorraine Todisco, communications specialist, 516.686.7812
###