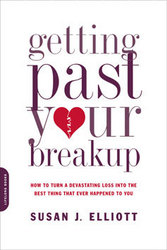 "I never ask my students to do anything I haven't done. I'm not a guru who preaches from 'on high.'"
New York (PRWEB) March 4, 2010
For many the road to recovery after a breakup is long, lonely and tedious. Not knowing where to turn or how to start can leave one in shambles, or worse, lead one to another bad relationship or into self-destructive behavior. After seeing countless situations such as these in her monthly seminars and on her successful blog, grief counselor Susan Elliott penned "Getting Past Your Breakup: How To Turn A Devastating Loss Into The Best Thing That Ever Happened To You" (Da Capo 2009).
Ms. Elliott is well-known for "telling it like it is" and her no-nonsense approach has helped many people through the extremely difficult post-breakup period and onto bigger and better things. One former seminar student explains, "You can trust her feedback because she's extraordinarily gifted in knowing what you need (a soft shoulder or tough love) and when you need it."
Elliott also begins the book with her own tale of abandonment and abuse and teaches how she got from there to a life most people only dream of. "I never ask anyone to do anything I haven't done. I have the education and the experience, and I think the experience is the most important part."
Readers and reviewers seem to agree.Getting Past Your Breakup was chosen as the Number One breakup book by About.com and one of the Top 5 by Yahoo! Shine. All of the mainstream media reviews have been positive and Amazon readers have given it 5 stars across the board.
The reception has been so good that Ms. Elliott has become an expert commentator on international, national and local television, radio, internet and print. She recently did a whirlwind tour of television and radio leading up to Valentines Day (one example: WPIX NYC Morning News) and is now being interviewed for pieces on how to get back out there and date when the spring love bug bites you as well as other timely topics.
But despite the media tours, Elliott still enjoys teaching and facilitating small groups. "I am currently giving two 'bootcamps' in NYC on Tuesday and Thursday nights which are full, but people out of the area have asked for the return of the one-day seminar and that is what I'm offering here." It's a 6 hour seminar with lunch and a signed copy of the book included. Registration is available at Register Here
Elliott says that while personal and email coaching is available, "I think people progress quicker in a group setting. I teach them how to get on with their own lives and how to give and get support which is so important for a healthy life." Elliott is working on a follow-up to the book and continues to give media interviews, expert commentary, share her story and coach clients in New York.
###