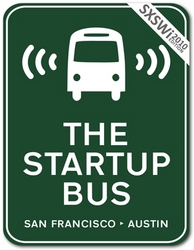 After hearing about the Startup Bus, we knew we wanted to help make it a success," said Jay Simons, VP Marketing at Atlassian.
San Francisco, CA and Austin, TX (PRWEB) March 4, 2010
On March 9, 40 strangers will board a bus in San Francisco, and over two days will "conceive, build and launch" several tech startups by the time they arrive at South by SouthWest (SXSW) in Austin. The Startup Bus was conceived by Elias Bizannes and is sponsored by Atlassian, who will provide software development tools, technical know-how, gas, food and beer to power the bus as well as the travelers on board.
Participants on The Startup Bus will be able to use JIRA Studio, a hosted software development suite that integrates Subversion source control with issue tracking, continuous integration, collaboration wiki, code review and source code searching.
Mark Halvorson, "Imagineer" at Atlassian, will be one of the 40 innovators boarding the bus on March 9th. In addition to coding, Mark will configure and support the Atlassian developer tools for other participants during the trip.
"Atlassian's tools are perfect for fast-moving teams like those on The Startup Bus," said Bizannes. "Whether they prefer hassle-free hosted tools, or want to get started with just a $10 donation to a great charity, Atlassian really fits the bill. I can't think of another company that better embodies the spirit of The Startup Bus."
JIRA Studio is used by hundreds of companies, including many small businesses and startups that don't want to invest in the infrastructure necessary to host the applications themselves. Because the application is hosted in the cloud, it can be accessed from anywhere, including on a moving bus.
"After hearing about The Startup Bus, we knew we wanted to help make it a success," said Jay Simons, VP Marketing at Atlassian. "Ever since our early days in a Sydney garage, we've been actively supporting startups and other grass-roots development efforts. This is one of the coolest ideas we've seen and we're excited to be involved."
About the StartupBus:
Twelve strangers will board a bus in San Francisco. At 60 MPH and over 48 hours, they will conceive, build and launch 3 tech startups in time for a SXSW party. The StartupBus was dreamt up by Elias Bizannes and is supported by several sponsors, including Atlassian (who is "powering" the bus with software) and eStrategy Group (who will be mentoring the teams). Starting Tuesday you can follow the StartupBus on Twitter as it motors into the startup history book. http://twitter.com/thestartupbus
About Atlassian:
Atlassian is an Australian software company specialising in software development and collaboration tools. More than 17,000 organisations of all sizes use Atlassian's issue tracking, collaboration and software development tools to work smarter and deliver quality results on time. Learn more at http://www.atlassian.com.
###