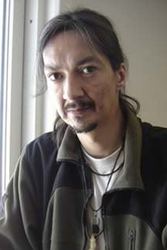 "Any company that collaborates with the BMP is not only in violation of the UN Declaration of Indigenous Rights," said Madsen, "they are also supporting what has clearly become an apartheid system."
Nuuk, Greenland (PRWEB) March 5, 2010
Niels Madsen, a small scale mining activist and one of the founders of the 16th August Union, a Greenlandic association of small scale miners, has issued a call to the international community to block the Greenland Bureau of Minerals and Petroleum's (BMP) continuing attempt to disenfranchise Greenlanders from their mineral resources.
The BMP has recently revoked communal ownership of the land and its resources, which were formerly guaranteed under Article 32 of the Greenlandic Constitution. On March 8th, Greenland's Manager of the BMP, Jorn Skov Nielsen will present in Toronto to the Prospectors and Developers Association of Canada http://www.pdac.ca/ with the clear aim of offering Greenland's vast mineral wealth to large scale mining companies.
"Any company that collaborates with the BMP is not only in violation of the UN Declaration of Indigenous Rights," said Madsen, "they are also supporting what has clearly become an apartheid system."
True North Gems, Inc., (TNG), a junior Canadian mining company prospecting for ruby on Greenland since 2004 was recently granted rights to an enormous exploration license near the village of Fiskenaesset. On Tuesday 9 March 2010, TNG is scheduled to give a 20 minute presentation to the Canadian diamond community.
Until the documentation of valuable gem deposits in Greenland, Inuits were allowed to gather, polish and sell gem material. Once exceptionally valuable ruby was documented by TNG, the BMP issued completely new mining laws.
"Once an applications is filed to mine, the BMP delays or outright refuses to issue licenses," said Madsen. "We also want to benefit from the ruby we already collected and legally own and pay fair taxes, but at present that is not possible."
"Even though True North Gems is very unpopular in our country, we respect large scale mining. But we cannot tolerate being thrown out of the many big exploration areas which will soon be covering the entire land which is our commons," said Madsen, who gathered four thousand signatures in support of Inuit small scale mining rights for ruby on Greenland.
Greg Valerio, a founder of the highly regarded Alliance for Responsible Mining, has flown to Greenland on two occasions, attempting to broker fair mining laws for small scale miners with the BMP. In June, 2009, at a meeting with Madsen and the BMP, he offered a reduced cost services from an international small scale mining attorney to create fair laws that measure up to international standards. Jorn Skov Nielsen agreed to this and later back out of his public commitment.
"The BMP is guilty of marginalizing the Inuit from their own wealth and inheritance," said Valerio. "Not only do their new small-scale mining laws discredit the BMP in the eyes of the international gemstone community, they also humiliate and discriminate against very people they claim to represent."
Madson has recently lauched the website, True North Gems Apartheid, which lists a set of demands to the BMP. Madsen views the site as an initial demonstration of his Union's plans to use social media to block the branding efforts of those large scale mining companies that collaborate in the apartheid policies of the BMP.
The most important jewelers in the emerging fair trade, ethical Sourcing Community are lining up in support of Inuit's rights. Many have already committed to not purchase any minerals from Greenland until the rights of small scale Inuit miners have been restored.
Contact: Inga B. Egede ing@greennet.gl / Niels Madsen ruby@greennet.gl
# # #