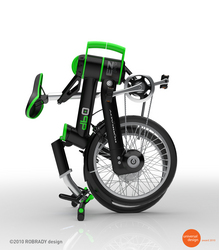 Sarasota, FL (PRWEB) March 8, 2010
ROBRADY design has garnered this year's Universal Design award in Mobility for their design of the revolutionary db0 3.0 Electric Folding Bike.
Universal Design GmbH, which seeks to inspire the creativity of designers and manufacturers to meet the challenges of the future through the international awards competition, chose the db0 as a superlative example of simple design with benefit for everyone. Scheduled for a market debut later this year, the db0 is currently on exhibit at the ZOW Fair in Bad Salzuflen, Germany and CeBIT 2010 in Hannover, Germany as part of the Universal Design Awards showcase.
ROBRADY design and Taiwanese partner DK City developed the innovative db0 3.0 as the first in a series to usher in the next generation of folding e-bikes. Sensitive to both the user and the environment, this bike embodies the partners' mission to design a series of clean, bold and innovatively simple folding bikes that celebrate foldability instead of concealing it. The folding mechanism serves as a visual focal point. Likewise, the battery configuration and travel handles add aesthetic and well as ergonomic value.
The bicycle market is new territory for ROBRADY design. Both partners are driven by a desire to protect and preserve the planet for future generations in this environmentally smart market.
ROBRADY design is a multi-disciplined product design and development studio offering progressive industrial design, mechanical design and engineering, graphics /packaging / GUI / web and eCommerce design, market research, brand and retail development, complete rapid prototyping and production program management to its multinational clientele which includes: General Electric, Mercedes-Benz, Dell Computers, Parker Hannifin, AT&T, Merial and Volvo Penta. Driven by a research to reality philosophy, ROBRADY design stresses comprehensive speed-to-market product solutions by collaborating to identify the greatest areas of opportunity and producing innovative designs to deliver successful design, production and capital solutions.
###