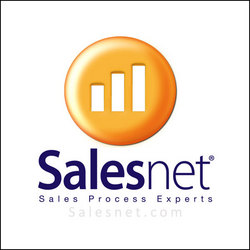 The new Salesnet is even more efficient at incorporating metrics into forecasts and management reporting. The enhanced user interface allows managers to quickly adjust sales strategies and the team to quickly tailor the application to meet their needs
Duluth, GA (PRWEB) March 9, 2010
Salesnet, a leading customer relationship management (CRM) software company, announces the release of "The New Salesnet." This new release completes the update of the core technologies and positions Salesnet to deliver sales excellence solutions for the next ten years.
" Salesnet has always enabled me to efficiently manage my business and exceed sales goals" said Amy Cosler, vice president of sales and marketing at Landauer Inc. "The new Salesnet is even more efficient at incorporating metrics into forecasts and management reporting. The enhanced user interface allows managers to quickly adjust sales strategies and the team to quickly tailor the application to meet their needs"
Salesnet has gone out of its way to make sure that all the existing users of Salesnet can easily transition to the new product on their own timeline. It has accomplished this by allowing customers to schedule their transition to the new interface. Administrators can update individual users or entire sales teams to the new release anytime over the next few months with a click of a mouse.
"There are so many new features in 'The New Salesnet' that it would be hard to list them all," said Lynn Madderra, vice president of operations at Salesnet. "This has been a great year for the Salesnet community as we have refreshed all of Salesnet's underlying hardware and software, and provided a new user interface. 2010 will be even better as we focus on adding new capabilities that include enhanced integration, management reporting and improved mobile device functionality."
"The New Salesnet's" feature set includes, but is not limited to the following:
Sales Process Capabilities

Insight into the process to close an opportunity
Powerful Built-In Data Analysis Tools

Real-Time Data Manipulation
Unlimited Complex Queries
Multi-level Grouping
One-Click Exports of Data
Cross – Browser and Platform Compliant

Firefox
IE 7 and 8
Chrome
Safari
MAC
PC
Enhanced User Workflows

Fewer Clicks Required
Simplified Opportunity Creation
Advanced Controls

Drag and Drop Functionality
Inline Edits
Enhanced Tab Interface
Updated Look and Feel

Attention to Interface Usability
Focus on User Efficiency
New Graphical Elements
About Salesnet
Salesnet, a leading provider of online CRM software specializing in managing and reinforcing successful sales performance, is focused on delivering solutions that empower companies to sell more effectively. Salesnet's hosted CRM solutions are proven alternatives to expensive and complex packaged CRM software. Organizations such as LXE, Sovereign Bank and ITSM Academy use Salesnet to increase revenues, improve sales and marketing effectiveness, and successfully manage customer relationships. Salesnet provides complete flexibility, customizability, and a rapid deployment. For more information on The New Salesnet go to http://www.salesnet.com
# # #