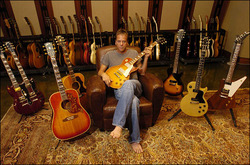 It was a series of terrible mistakes that led us to starting a label
Santa Monica, CA (PRWEB) March 9, 2010
Whilst known and loved around the world as hard-bitten hero Jack Bauer, few realize that before he took the lead role in television hit "24", Kiefer Sutherland along with co-founder Jude Cole, had launched a successful record label, Ironworks Music. Now home to artists Rocco DeLuca & The Burden, Lifehouse, Ron Sexsmith, Billy Boy On Poison, and honeyhoney, Kiefer discusses exclusively with LP33.tv the Ironworks vision, how he picks the bands they sign and manages their careers.
In this intimate and revealing interview, viewable on Kiefer's LP33.tv profile (http://LP33.tv/kiefersutherland), we get insight in to the lesser known Kiefer Sutherland talking openly and honestly about his love for the guitar, the bands he's passionate about, and even hustling for the Ironworks family on the streets of London. He also talks about the series of 'terrible mistakes' that lead him to launching a record label.
Part 1 of the interview premieres today, March 9th, with part 2 premiering March 15th.
As part of LP33.tv's partnership with Ironworks Music, Kiefer has personally signed a top of the line Gibson Classic USA SG Guitar. The promotion is open now at http://LP33.tv/kiefergiveaway (US residents only).
About LP33.tv
LP33 is a music entertainment and discovery business that operates in a B2C and B2B capacity. LP33.tv is the company's consumer facing web portal providing fans with a video centric music discovery and sharing experience with associated news blogs at http://www.lp33.tv/blog.
The company is uniquely powered by its global A&R Research Department and Scout Network which presents the best in emerging artists across all of LP33's platforms. These music recommendations are supported by our state of the art social network sharing technology. On the B2B side, LP33 offers its in-house research, production, and technical services to a number of major corporate partners.
Investors include high profile music industry names, including Tony Smith (manager of Genesis, co-manager of Pink Floyd), legendary tour promoter Michael Cohl, along with members of Genesis.
# # #