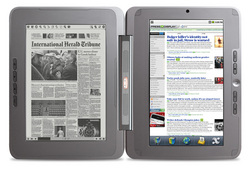 "Partnering with NewspaperDirect allows us to provide our customers with a robust catalogue of American and international newspapers, satisfying their media consumption needs even further," said Asghar Mostafa, CEO of enTourage Systems.
Abu Dhabi, UAE (PRWEB) March 9, 2010
(Abu Dhabi Media Summit #admediasummit): NewspaperDirect Inc., the world leader in multi-channel newspaper and magazine content distribution is bringing the world's largest online kiosk of full-content newspapers and magazines to the enTourage eDGe™.
Starting today, PressDisplay.com subscribers can download, via wireless network or USB connection, their choice of more than 1,500+ titles to the enTourage eDGe, and read them cover to cover. Available titles include: The Washington Post, Los Angeles Times, San Francisco Chronicle, Globe and Mail, National Post, The Guardian, Daily Mail, International Herald Tribune, Irish Independent, Le Figaro, The Australian, New Zealand Herald, Gazeta Wyborcza, Marca, Bangkok Post, and Kommersant, to name just a few.
"Partnering with NewspaperDirect allows us to provide our customers with a robust catalogue of US and international newspapers, satisfying their media consumption needs even further," said Asghar Mostafa, CEO of enTourage Systems. "The enTourage eDGe is an ideal platform for PressDisplay fans, allowing them to engage content when on the move like never before."
The world's first dualbook with hinged E-Ink and LCD screens, the enTourage eDGe combines the functionality of an e-reader, tablet netbook, and notepad. It provides PressDisplay.com subscribers an exceptional newspaper and magazine reading experience. The large 1200 x 825 pixel, glare-free E-Ink screen means they can read their favorite publications even in sunlight, while the technology supports story annotation using the stylus or text — either by hand or using the virtual keyboard.
"The dual screen and exceptional viewing quality of the enTourage eDGe makes reading a newspaper while on the go an even better experience," said Alex Kroogman, CEO of NewspaperDirect. "As the leader in expanding the number of ways consumers can access newspapers and magazines, we are continually adding new devices, and we're delighted to add the enTourage eDGe to our line-up. The moment a device is supported by PressDisplay.com, it's also made available to NewspaperDirect publishing partners for their own e-papers."
The newspapers and magazines of publishers who are already working with NewspaperDirect are automatically compatible with the enTourage eDGe. Publishers of the hundreds of private-label SmartEdition e-papers powered by PressDisplay technology benefit immediately since their content is made available to their subscribers via the newest consumer electronics devices on the market.
PressDisplay.com is popular with consumers who want access to multiple news sources, and corporate customers who need to monitor printed media for business-critical news. With more than 1,500 full-content digital replicas of newspapers and magazines from 93 countries in 44 languages, it has also become the standard in over 2,500 libraries around the world.
Media resources
NewspaperDirect website — PressDisplay website — PressDisplay blog
Become a PressDisplay fan on Facebook and follow us on Twitter: @pressdisplay
About enTourage Systems Inc.
enTourage Systems, Inc. is a provider of a new interactive dualbook that improves the way we learn, do business and entertain. The company's flagship product, the enTourage eDGe, is a comprehensive tablet netbook, notepad, e-reader, video player and audio recorder that allows users to easily manage their digital needs from a central device. enTourage Systems, Inc. is headquartered in McLean, VA. For more information, visit http://www.entourageedge.com.
About NewspaperDirect Inc.
NewspaperDirect (http://www.newspaperdirect.com) delivers the world's newspapers and magazines to millions of readers the way they want to receive them — in print, online, or on their mobile device or e-reader — wherever they live, travel, work or play. With the most innovative digital publishing technology in the industry and the only zero operational-cost business model, NewspaperDirect is recognized as the world leader in multi-channel content distribution and monetization, and is the chosen partner of more than 1,400 publishers from 93 countries.
Optimized for PCs, Macs, Smartphones, iPhone, iPod Touch, BlackBerry, and various popular e-readers, NewspaperDirect's flagship products (PressDisplay.com and PressReader) transcend the traditional RSS or text-based formats of other digital editions, delivering full-content publications that are compliant with international audit bureau requirements. PressDisplay.com also enhances the reading experience with powerful features such as cross-title search, monitoring, article ranking, bookmarks, instant translation, on-demand audio and social features that allow readers to comment on content, share articles, and interact with other readers.
SmartEdition, powered by PressDisplay technology, offers publishers a fully customizable digital edition platform with powerful and proprietary back office reporting and analysis tools (Reading Map, Ad Value Map) that help them optimally manage their content and advertisers. NewspaperDirect provides full hosting, payment acceptance, customer service management, and technical support.
Media contact:
Tim Cox, ZingPR, +1-650-369-7784
###