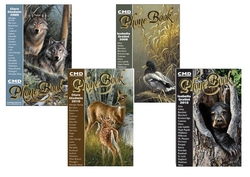 We are making it easier to search, discover and share shopping information about local merchants and service providers.
Mount Pleasant, MI, and Lansdowne, VA (PRWEB) March 15, 2010
Central Michigan Directories, Inc., the publishers of CMD Phone Books in Isabella & Gratiot and Clare & Gladwin Counties in Michigan announced today that its Internet site http://www.cmdphonebook.com will be re-launched with a new Internet Yellow Pages solution designed and hosted by Innovectra.
"Since 1989 we've been providing local residents and area consumers with directories that are more user-friendly. We are doing the same thing on the Internet by making it easier to search, discover and share shopping information about merchants and service providers," said Dave Pety, general manager of CMD Phone Books.
CMD's new Internet Yellow Pages will feature search engine friendly, business profile pages of participating businesses with links to Yellow Pages ads from the phone books, company web sites, e-mail, maps, driving directions, videos, coupons and more.
"Our goal is to make the CMD Phone Book Internet site an integral part of the local communities they serve," said Thomas C. Lewis, president and CEO at Innovectra.
Coming soon, the new CMD Phone Book site will be searchable online via the publisher Home Page at http://www.cmdphonebook.com, where users can search on their computers or mobile device by keyword and community to find exactly what they are looking for including restaurants, autos, doctors, motels and attorneys. The Local Search widget and Share It features enable CMD Phone Books users to locate the best of what the Central Michigan area has to offer, and share with their family, friends and neighbors.
About Central Michigan Directories:
Better known as CMD Phonebooks, Central Michigan Directories, Inc. has been publishing two, two county wide phone books, The Isabella/Gratiot CMD Phonebook and The Clare/Gladwin CMD Phonebook for over 20 years. Nearly 100,000 phone books, featuring wildlife cover art, are distributed door-to-door each winter.
About Innovectra:
Innovectra is the leading provider of digital directory, Internet Yellow Pages platforms and search marketing solutions for directory publishers. We are a strategic partner with a proven track record for building successful directory businesses on the Internet. Currently engaged with over 25 clients, Innovectra hosts and manages digital Yellow Pages editions with ActivDirectory™ and produces web-optimized, Internet Yellow Pages with ActivImpact™. We deploy sites to generate more business leads for small businesses via web, mobile and social channels, SEO and SEM services. Innovectra recently introduced a web site builder tool and new publisher apps for both the iPhone and iPad. For more information, go to http://www.innovectra.com.
###