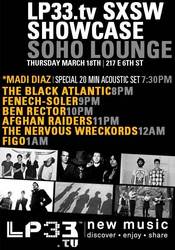 LP33.tv's CEO Andrew Bentley states, "Our partnership with SXSW provides additional exposure for artists through the SXSW 2010 Artists Channel . Our dedicated A&R scout blogging team from around the US and the UK will be sure to capture the most exciting
Austin, TX (PRWEB) March 15, 2010
Anyone can now watch and read LP33.tv's coverage on their mobile device via m.lp33.tv or apps available for Blackberry, Android, Nokia, and Palm smartphones. On a related note, LP33.tv has also announced that its highly popular mobile app, which also allows users to build personalized video playlists on the fly, has become the #1 rated in its class in the Blackberry store, joining its top rated Nokia app.
LP33.tv's partnership with SXSW allows unparalleled in-depth and comprehensive access. Full coverage, updated throughout the day and night, is available at http://LP33.tv/blog with the most recent highlights at http://LP33.tv/sxsw. Video highlights are also available on SXSW's official Facebook page under the My LP33 tab.
Powered by LP33.tv's in-house A&R Scout Network (TMI), the largest of its kind, LP33.tv has identified the most musically important new and breaking bands and artists. It has a team of over 20 music news bloggers covering showcases, as well as video teams creating in-depth exclusive video interviews from the conference center, including coverage from LP33.tv's Official SXSW Artist Lounge.
LP33.tv's CEO Andrew Bentley states, "Our partnership with SXSW provides additional exposure for artists through the SXSW 2010 Artists Channel. Our dedicated A&R scout blogging team from around the US and the UK will be sure to capture the most exciting aspects and behind the scenes of SXSW Music 2010."
As part of LP33.tv's commitment to bringing users the very best in new and emerging music, it will also host a showcase at the Soho Lounge on 6th Street, Thursday March 18th from 7.30pm.
The showcase will feature highly anticipated buzz bands:

Recent breakers Madi Diaz
The Black Atlantic from The Netherlands
UK band Fenech-Soler, named 'one of the best shows of 2009' on the BBC
Newcomer Ben Rector whose release debuted in the iTunes top 10 in its first week
Las Vegas-based Afghan Raiders touted in the press as this year's breakout dance act
The Nervous Wreckords, the new band from members of LOUIS XIV and Cornershop
FIGO who have remixed for A Place to Bury Strangers and Boxer Rebellion.
SXSW Music 2010 takes place in Austin, Texas March 17-21.
About LP33.tv
LP33 is a music entertainment and discovery business that operates in a B2C and B2B capacity.
The company is uniquely powered by its global A&R Research Department and Scout Network which presents the best in emerging artists across all of LP33's platforms. These music recommendations are supported by our state of the art social network sharing technology. On the B2B side, LP33 offers its in-house research, production, and technical services to a number of major corporate partners.
Investors include high profile music industry names, including Tony Smith (manager of Genesis, co-manager of Pink Floyd), legendary tour promoter Michael Cohl, along with members of Genesis.
# # #