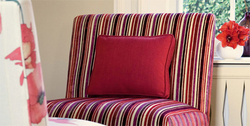 Spring 2010 heralds the launch of 'Bijoux', a new co-ordinated range of textured tweeds and crushed velvets
(PRWEB) March 30, 2010
To celebrate its golden anniversary, the UK's leading loose cover, curtains and re-upholstery specialist Plumbs has created a variety of exclusive new collections, honouring its 50 year heritage with a range of fabrics manufactured by British design houses.
Spring 2010 heralds the launch of 'Bijoux', a new co-ordinated range of textured tweeds and crushed velvets following the very latest style trends for a combination of design and colour, which ooze luxury and class.
Plumbs is also launching 'Timeless Classics', an exciting new range which blends beautiful florals, plains, mini designs and stripes in co-ordinating room settings.
Plumbs' Decra product (affordable fabric with built in stretch) is being revolutionised this Spring by a wealth of new additions, which have the appearance, and feel of quality weaves with the easy-care qualities and glove-like fit of Decra.
Autumn 2010 will see the release of a special 'Prestige Collection' showcasing the very best sellers from top British brand names such as Sandersons, Crowsons and Blendworth. Available for re-upholstery, traditional loose covers and curtains, this superlative range will be the Crème de la Crème of top quality furnishing fabrics.
At the same time, Plumbs will also launch its 'Venetian Palace' Collection - a top of the range yet affordable collection.
From its early days as a North West market stall, Plumbs has grown into the UK's biggest supplier of loose covers – producing over 1,000 made to measure orders every week - and has diversified in recent years adding curtains and the highly skilled art of reupholstery to its range of services.
With 50 years under its belt and having covered 3 million suites to date, the family-run business has embraced five decades of home interior fashion from the vivid oranges of the 1960s, the elaborate and coordinated styles of the 1980s to the clean minimalist approach of the 1990s.
About Plumbs:
Plumbs have around 150 Home Consultants who will visit homes free of charge. The Home Consultants can recommend an appropriate loose covers solution and advise on room colour co-ordination and any other home furnishings such as upholstery, furniture covers, cushion covers and curtains.
With over 350 different upholstery fabric designs and colours to choose from, and a range of materials to suite any piece of furniture.
For further information please contact:
Chris Plumb Plumbs Marketing and PR Contact on - 01772 838430 or email cplumb(at)plumbs(dot)co(dot)uk
Geraldine Vesey, Anoushka Done or Mairead Rodden on - 0161 838 7770 or email firstname(dot)surname(at)skvcommunications(dot)co(dot)uk
###