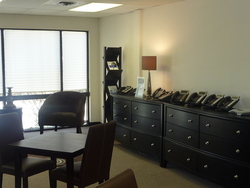 You wouldn't buy a new car without taking it for a test drive, so why should you buy a VOIP PHONE SYSTEM without trying it out, first?
Denver, CO (PRWEB) March 23, 2010
To help local Colorado businesses save time, money and resources,The Office Phone opened a dedicated business VOIP showroom in Denver. As the first dedicated VOIP showroom in the area, the company looks to change the industry by catering to the specific needs of local small businesses.
With experienced technical professionals on staff, The Office Phone has emerged as a leader in VOIP phone systems for Metro Denver businesses. Built around a goal of exceeding customer expectations, the company's professional technicians have experience with many market leading business VOIP systems. With experienced sales consultants and a focus on the local Denver market, The Office Phone has helped guide many Denver companies to purchase or lease their office phones systems.
Many small businesses and independent professionals find the business phone systems market hard to understand. The Office Phone offers straightforward answers, value and professionalism in helping firms make informed choices for their complex communication needs. Working only with reliable brands and models, the company gives companies more choices when it comes to upgrading their telecommunications setup. Since The Office Phone has worked with a wide variety of local and regional companies, they can help firms understand the challenges and advantages of migration from traditional telephony to a business VOIP setup.
Efficient Office Phone System Upgrades
With a showroom that has VOIP or IP telephone system demonstration sets,local Denver business owners and Customers can touch, feel and experience the features that come with each option. Recognizing the importance of reliable business communications, the showroom allows customers to test call quality of various IP PBX telephone system sets. From technology professionals to managers new to the VOIP market, the consultants at the Office phone can demonstrate and help you understand the various options on the business VOIP market today.
Unified Communications
Featuring one of the widest selections of VOIP phone systems, consultants at The Office Phone can demonstrate a variety of options. Today, most IP PBX or VOIP Phone systems have options to allow fax messages to go to email or voicemails to email.
Telecommuters/ Remote workers
With IP PBX or VoIP Phone Systems, small branch offices and their telecommuters/remote workers can have access to the corporate office voice mail system and advanced unified messaging features. Managers can track their telecommuters or remote workers call logs. Access to their remote workers is a matter of dialing an extension even if their remote workers are located outside United States. This results in sizeable long distance or international calling cost savings. Telecommuters or remote workers locations are transparent to their customers.
"We are focused on delivering a quality customer experience for those considering VOIP or IP PBX systems," according to President Alicia Chong Gillis. "Our qualified sales consultants can discuss the advantages and disadvantages of a migration from your existing setup to help you make an informed decision based upon costs and features." To help firms make the right decision based upon their need, The Office phone offers free consultations, telecom bill audits and buying advice during the process.
About The Office Phone:
The Office Phone has worked with local and regional firms to lower communications bills since 2005. Working with top rated phone companies with proven technology, the company has solutions for firms in nearly every industry.
Contact:
The Office Phone
2305 S. Syracuse Way
Unit 8 Denver, CO 80231
TEL: 303-745-2262
sales(at)theofficephone(dot)com
http://www.theofficephone.com
###