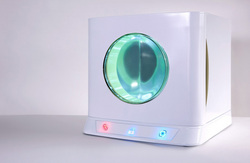 The potential impact of this disinfection technology to consumers and the medical profession could be very significant
Coconut Creek, FL (PRWEB) March 23, 2010
Product Development Technologies (PDT), a global, full-service product development firm, announced today that it has worked with Science and Light Technology, Inc. to develop a revolutionary new sterilization system that utilizes ultraviolet (UV) light to purge 99.99% of bacteria, mold and viruses from medical tools and food products.
As the first of its kind, the Science and Light Technology UV disinfection machine called 3-D CLEAN, brings unique technology, convenience and style to in-home and medical sterilization. Previously, users had to manually rotate objects for disinfection, and a bulky design and lengthy sterilization process meant limited use outside of healthcare organizations.
The new product, a countertop unit the size of a microwave, utilizes patent-pending 360° Core UV Technology that disinfects and sterilizes the 360° surface of any item placed on the unit's propriety quartz glass shelf. With self-adjusting capabilities, the machine alters UV exposure time based on an object's size, UV absorption and the lamp's UV output, providing a sterile item in a matter of seconds.
"While tighter guidelines in the processing, packaging and delivery of food have sought to decrease food borne illnesses, much of it still remains out of a consumer's control. As such, food purification is still a huge challenge today," said Tim Morton, PDT's Austin Design Manager. "Science and Light Technology recognizes the need for a device that can be utilized both in-home, as well as by the wider medical and commercial communities. They understand that new technology and a sleek, easy-to-use design will help solve some common environmental and health problems we still face."
After Science and Light Technology, an environmental health and safety products company, engaged with PDT in 2008 as a single-developer partner to design and manufacture the UV disinfection machine, a rapid 13-month development phase soon followed.
PDT was chosen for its extensive medical-product experience and previous designs that reflected a professional and forward-thinking aesthetic. Three of its branch offices – Florida, Illinois and Texas – were involved with the mechanical engineering; electrical engineering and prototyping; and industrial design of the 3-D CLEAN system, respectively.
Extensive research about the current and potential uses of the device aided PDT in establishing a design that could meet the form and function desired by Science and Light Technology, as well as its potential customers. After leveraging its expertise in mechanical and electrical engineering, PDT then developed a prototype that could be used by a variety of individuals – including those with disabilities.
The advanced UV disinfection machine now boasts a brushed metal exterior that is both highly durable and non-toxic. LED-indicators and a user interface with touch-sensitive controls and simple device functionality showcase its stability and robust sterilization capabilities.
The design, function and scale of the UV disinfection machine allow it to be used in a variety of ways. This includes adoption by lab and healthcare units, local medical practitioners, health clubs, preschools, nail salons and even consumers with medical conditions – such as a compromised immune system – that necessitate an in-home sterilization device.
Science and Light Technology was pleased with the final product and overwhelmed by the value received in both the design and manufacturing process.
"The potential impact of this disinfection technology to consumers and the medical profession could be very significant," said Kenneth Stanley, Sr., co-founder of Science and Light Technology, Inc. "As households, medical professionals and institutions continue to demand higher standards of cleanliness and user-friendly methods to kill bacteria, mold and viruses, the future applications of the 3-D CLEAN system will continue to grow."
Science and Light Technology is currently completing the design and development phase of its initial 3-D CLEAN disinfection system. The 360° Core UV Technology, still patent-pending, will initially be implemented into three first-generation product models. The "core" of each model will incorporate varying features, functionality and levels of the 360° Core UV Technology tailored to the needs of specific markets. Two prototypes in pre-production are currently being used as demonstration units.
To learn more about the 3-D CLEAN disinfection system, visit the Science and Light Technology Web site.
About PDT:
Product Development Technologies, Inc. (PDT) is a global, full-service product development firm with over 100 employees in eight offices worldwide. Team members have expertise in a wide range of product development disciplines, including strategy, design research, industrial design, user interface development, electrical and mechanical engineering, software development, laser scanning, and tooling. PDT's award winning product designs have been recognized by BusinessWeek, the Industrial Designers Society of America, Design Journal, The Consumer Electronics Association, Inc. Magazine, Chicago Athenaeum of Architecture and Design, and Parametric Technologies Corporation. http://www.pdt.com
###