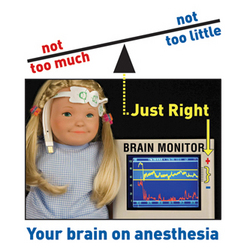 No one over 50 should have general anesthesia without a brain monitor. That's a 'slam dunk.'
Newport Beach, CA (PRWEB) March 23, 2010
Goldilocks Anesthesia Foundation warns about avoiding dementia after anesthesia. Especially for patients over 50, anesthesia over medication is a serious public health risk when anesthesia is given without a brain monitor. The American Society of Anesthesiologists (ASA) remains focused on the 0.1% issue of 'awareness.' The 'red herring' public disinformation campaign is why Goldilocks Anesthesia Foundation claims the ASA has 'fouled out' during March Madness.
"No one over 50 should have general anesthesia (GA) without benefit of a brain monitor," says Dr. Barry Friedberg, prominent board certified anesthesiologist and president of Goldilocks Anesthesia Foundation. "GA without a brain monitor is 'madness' whether in March or any other month."
Without a direct brain monitor, the routine 20th century anesthesia practice has been over medicating lest the patient receive too little anesthesia drug.
"Just like too much alcohol, too much anesthesia isn't good for the brain either," Friedberg notes. " 'Goldilocks' anesthesia assures the patient neither gets too much nor too little anesthesia."
Dementia after anesthesia has been published in recent journals but, thus far, never is anesthesia over medication considered as the most probable cause for the dementia.
The American Society of Anesthesiologists (ASA) continues to assert that 'more study needed' even when 80% of the 'awareness issue' is eliminated with brain monitor use. This paper was published in 2004.
"Six years on top of more than 3,000 previously published scientific studies shows there has been more than enough study," says Friedberg. "It's time to put a stop to avoidable anesthesia dementia."
The far bigger public health issue than the ASA fixation on 'awareness (0.1%) is dementia after anesthesia from patients getting more anesthesia drugs than their brains need (99.9%).
"Anesthesia drug over medication is especially important to avoid for people over the age of 50," says Friedberg. "Anesthesia drugs medicate the brain. Why not measure it?"'
"The use of brain monitoring is the standard of care for 21st century scientific anesthesia practice," Friedberg asserts.
Patient's demand for a brain monitor when going under anesthesia must be non-negotiable. Faced with the possible loss of a surgical case, the cost of the $20 sensor will become irrelevant to the hospital or surgicenter.
"Americans absolutely must understand the critical need to avoid anesthesia over medication," Friedberg concludes. "Brain monitored GA is a 'slam dunk.' "
Go to Goldilocks Anesthesia Foundation web site to download the FREE 9 essential questions to ask (along with the 'must get' answers) any prospective surgeon.
Disclaimer: Goldilocks Anesthesia Foundation is a public, non-profit that does not accept financial support from brain monitor makers. Dr. Barry Friedberg is not a stockholder, Board member or paid consultant to any brain monitor maker.
###