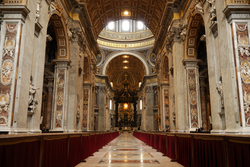 San Francisco, CA (PRWEB) March 24, 2010
Inspired by the approaching Easter holiday, the team at Viator.com, the leading resource for researching and booking more than 5,500 trip activities and experiences at the best prices, is highlighting some extraordinary opportunities for travelers to have truly divine experiences. Special access to the Vatican while closed to the general public and tickets to the Oberammergau Passion Play performed only once a decade can create unforgettable moments for all travelers.
Rome
Viator features more than 70 tours and activities in and around Rome, the most popular European destination among Viator travelers. Experiences include private walking tours highlighting Medieval or Classic Rome, excursions through the Catacombs and Colosseum, day trips to Florence and Pompeii, and wine and food adventures in the Tuscan countryside. But as one of the most popular destinations in the world, one of the best things Viator offers to travelers heading to Rome is exceptional access to the Vatican Museums and Sistine Chapel.
The Vatican – All to Yourself
Vatican visitors can wait many hours to gain entry to the busy galleries of the Vatican and Sistine Chapel. The Private Viewing of the Sistine Chapel and Vatican Museums (from $399 per person*) provides after-hours access to these precious surroundings for an intimate group of travelers. This exclusive access is only offered on certain evenings and is only available through Viator.com. Travelers have unanimously remarked in first-hand reviews that this once-in-a-lifetime experience is money well spent.
The Skip the Line: Vatican Museums Walking Tour including Sistine Chapel, Raphael's Rooms and St Peter's Basilica offers an early morning upgrade option (from $120) that brings a small group inside for a brief private viewing before the general public is ushered in. Whether the upgrade option or not, travelers skip long lines and receive personal attention from their expert guide. This is one of Viator's most popular tours featuring a 5-star traveler rating and more than 2,300 first-hand reviews.
No Matter What, Skip the Line!
In addition to the exclusive access Viator offers to travelers, there are many tours that enable travelers to skip the long lines at the Vatican saving them precious time while in Rome and Vatican City.

Skip the Line: Vatican Museums, Sistine Chapel and St Peter's Basilica Half-Day Walking Tour (from $37). With 877 traveler reviews, this is another of Viator's most popular tours. (Entrance tickets purchase during the tour for approximately $28).
Skip the Line: Vatican Museums Tickets (from $43). Travelers can pre-book these tickets to skip the line while exploring the Vatican at their own pace.
Skip the Line: Vatican Museums and Sistine Chapel Tour (from $80). With morning and afternoon departures this experience includes a mini coach tour of Rome.
Skip the Line Private Tour: Vatican Museums and St Peter's Art History Walking Tour (from $88) features a more in-depth examination of the history of the art collection of the Vatican.
Skip the Line Private Tour: Vatican Museums Walking Tour (from $102). Vatican visitors receive personalized attention from their guided tour of the Vatican museums while skipping the long lines.
When in Rome, Visit with the Pope
Advance bookings are essential to attend a Papal Audience at the Vatican. The Audience with Pope Benedict XVI at Vatican City (from $49) begins with a coach tour across Rome and guarantees participation in the Papal Audience. In August, the Papal Blessing at Castelgandolfo Day Trip from Rome (from $62) makes a pilgrimage from Rome to the Pope's summer residence.
Oberammergau Passion Play 2010
In 1633 when the bubonic plague swept across Europe, the surviving population of Oberammergau, Germany vowed to perform a Passion Play every 10 years if they were spared. They were true to their word, and in 2010 the story of 'The Passion of Jesus of Nazareth' will be played out for the 41st time. Tickets are in high demand but Viator has secured access to a limited number, bookable as part of the 3-Day Oberammergau Passion Play Tour from Munich. Travelers have a chance to experience this once-in-a-lifetime event with a package that includes two nights' hotel accommodations, train tickets and the stunning performance by 2,000 local performers, musicians and designers.
*Note – all prices listed are per person.
###