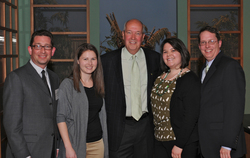 "Each year it's inspiring to see how Clarke appliances are integrated into the finest homes in New England," said Clarke CEO Tom Clarke. "The installations of Sub-Zero and Wolf are really stunning."
Milford, MA (PRWEB) March 25, 2010
More than 200 stars of the New England design community flocked to Clarke's extraordinary kitchen design showroom for their Third Annual Designer Appreciation Night on St. Patrick's Day. A one-hour presentation included a celebration of Clarke's 50-year anniversary of a family relationship with Sub-Zero, the announcement of the New England winners of Sub-Zero and Wolf's Kitchen Design Contest, winners of Clarke's Specifier Excellence Awards and the kick-off of both Clarke's new Designer Rewards Program and their 2010 Design Contest. In addition, guests were treated to Irish Step Dancing, creative food and holiday-inspired toasts of Bailey's and Jameson to celebrate the winners.
Tom Clarke, company CEO and past Entrepreneur of the Year in New England, kicked off the evening's festivities with, "You pay us the highest compliment by choosing to spend your St. Patrick's Day with Clarke." He, Clarke Business Development Manager Joe Tanguay and Clarke Director of Marketing Jim Raftus all made presentations to the amphitheater packed with architects, designers and allied professionals.
Three of the winning projects in the 2008/2009 international Sub-Zero and Wolf Kitchen Design Contest are located in New England and designers from all three were present to be recognized as they prepared to leave for Sub-Zero and Wolf's awards ceremony in West Palm Beach, Florida. Photos of the award-winning kitchens by David Hacin of Hacin + Associates of Boston, Stephanie Horowitz of ZeroEnergy Design and Donna Venegas of Venegas and Company, both of Boston, and Charles Snyder of Kitchens by Deane, Stamford, CT, were projected on a giant video screen while Clarke General Manager Sean Clarke narrated the projects. Clarke also recognized Dalia Tamari of Dalia Kitchen Design, who became the first New England member of an internationally acclaimed panel of judges for Sub-Zero and Wolf's competition.
Following that presentation, winners of Clarke's Specifier Excellence Awards were announced: Nina Albamonti of Domestic Kitchens, Fairfield, CT; Duncan Lomas of Vartanian Custom Cabinets, Palmer, MA; and Melissa Brown of Weston Kitchens, Wellesley, MA.
"These awards recognize designers who lead the region with creative installations of Clarke appliances including Sub-Zero, Wolf, Asko, Best, Scotsman and KWC," said Tom Clarke. "Each year it's inspiring to see how our products are integrated into the finest kitchens, baths and non-traditional installations throughout New England. The design talent in this region is stunning and we want to reward that creativity."
According to Duncan Lomas, who is the only designer who has won during all three years of these awards, "It's great to be associated with quality brands and be able to offer our clients high-performance appliances from a family-owned company, which is what Vartanian Custom Cabinets is as well. We take great pride in our cabinetry and believe that the right appliances are key to the look and function of a great kitchen."
Lomas has further taken advantage of Clarke's partnership by placing two of his projects in Clarke's online design gallery. "It's important that we use all avenues to showcase our talents and the quality of our work," he said. "Clarke offers us various ways to do that."
With design inspiration as the mission, Clarke also announced a new Designer Rewards Program that issues a Clarke Designer Rewards Debit Card to design professionals specifying Clarke products.
"Imagine that your clients are first educated and pampered by our sensational showroom consultants," explained Clarke. "Then they are dazzled by live product demonstrations and celebrity chef cooking classes. In addition, they know they can rest assured that Clarke Customer Care, our appliance repair company rated top in the nation for customer satisfaction, will be there for any post-sale concerns. I challenge you to find another design partner that can honestly make these claims to care for your customers."
Architects and designers traveled from Maine, New Hampshire and Connecticut to participate in the lively evening of awards and entertainment. Step dancers from Showcase Productions opened and closed the awards ceremony, along with a procession of wait staff who presented guests with a choice of shots of Bailey's or Jameson to toast the winners.
Clarke will post a photo album from the event on their Facebook Fan page, found at Clarke Appliance Showrooms. For more information on designer initiatives, visit http://www.clarkecorp.com or call Joe Tanguay at 800-842-5275.
# # #