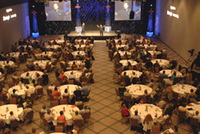 "ACGI brings proven technology innovation, integrity, and commitment to execution". --Don Dea, cofounder of Fusion Productions.
Columbia, MD (PRWEB) March 30, 2010
ACGI Software®, the trusted leader in association management software (AMS), is pleased to announce it is a Resource Center Partner and sponsor of DigitalNow, an annual conference created and produced by Fusion Productions and Disney Institute. A decade ago, ACGI's flagship system, Association Anywhere®, was originally showcased at DigitalNow's inaugural conference, where ACGI was recognized as the "first to market" with a completely web-browser-based AMS for the association marketplace. To celebrate this anniversary, ACGI is thrilled to be demonstrating its newest version of Association Anywhere in the e.comm.unity Resource Center at the DigitalNow conference, being held April 7th to 10th at Disney's Contemporary Resort, Lake Buena Vista, Florida.
DigitalNow is an annual conference, which brings together CEOs and volunteer leaders from some of the most influential professional, non-profit, and trade associations in America. It addresses the critical issues facing association leaders in the digital age. In addition to traditional keynote presentations, attendees drill down to the application level with subject matter experts and business strategists. It features interactive program design, and attendees can select the workshops and sessions that work best for them.
ACGI Software's President and CEO, Kevin Hostutler, will be co-presenting with Jason Samuels of the National Council on Family Relations. Their presentation is on When Difficult Decisions Lead to Successful Outcomes. It will provide the audience with an understanding of how to minimize implementation cost and time for association management software, how to approach and make difficult decisions for maximum value, and how smaller organizations can stretch their IT budget during difficult economic times.
"ACGI Software is delighted to have such a successful and long-standing partnership with DigitalNow. Association leadership today revolves around creating effective strategies, clarifying your value proposition and structuring your association so that it can execute in the proper business and social environment," said Hostutler. "To that end, many of the leadership issues of the day are the digital issues and DigitalNow is a fantastic venue to discuss these issues."
"ACGI brings proven technology innovation, integrity, and commitment to execution", said Don Dea, cofounder of Fusion Productions. "Ten years ago, when DigitalNow was founded, we looked for partners that were innovative and best-in-class and ACGI stepped forward to demonstrate their web browser-based technology named Association Anywhere." At the time, this technology was new to associations but ACGI's expertise and product value gained traction and won the trust of association executives.
"Looking back ten years, ACGI's technology has stood the test of time and they remain a leader in the industry for software innovation and service to associations," noted Dea. "Our ten-year relationship with ACGI is based on more than product innovation – it is rooted in the richness of its people who bring a true partnership with common goals to deliver constant value every year. As a result, the entire DigitalNow community enjoys a trusted partnership with ACGI that, too, will stand the test of time."
About ACGI Software
ACGI Software is the trusted leader in Web-based association management software and best-practice services. Its flagship application, Association Anywhere®, integrates with an association's Website and business applications, automating administrative and financial operations, enhancing communication and reducing operating costs. It gives association executives the tools they need to engage members, empower staff and make insightful decisions. Founded in 1996, ACGI is based in Columbia, Maryland. For more information, please visit http://www.acgisoftware.com.
About Fusion Productions
Fusion Productions is a full-service production company that creates customized member experiences whether on stage or on a desktop through the integration of meetings, learning and technology. Fusion is well known to the association community for their ground-breaking technology research, consulting and seminars. Fusion Productions, co-producers of the renowned DigitalNow conference, is at the forefront of today's technology solutions including: social media strategy and execution, eLearning, website development, learning platforms, and full AMS integration. Fusion enables associations to offer increased value and personalized member experiences. Fusion is a certified minority business enterprise. For more information, please visit http://www.fusionproductions.com.
# # #