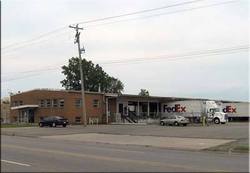 Some of these properties provide great investment opportunities with nationally renowned companies" stated Earl Williams, Auction Manager with HAI
Lakeland, FL (PRWEB) March 26, 2010
Higgenbotham Auctioneers International (HAI) announced that their firm would liquidate at auction seven freight terminal/warehouse distribution facilities in high-visibility locations across the United States.
The four-day sale is scheduled to begin Tuesday, March 30th and continues thru Friday, April 2nd. Each auction will be held live and onsite at each property. Internet bidding is available for those unable to attend in person, pre-registration is required.
The auction inventory includes five income-producing properties.
"Some of these properties provide great investment opportunities with nationally renowned companies" stated Earl Williams, Auction Manager with HAI.
The HAI auction team will travel across country, stopping at each property to conduct the auctions live. The sale order will be as follows:

11:00 AM CDT, Tuesday, March 30, Decatur, AL – 8,735± SF facility on 2.49± acres
10:00 AM EDT, Wednesday, March 31, Kalamazoo, MI – 17,770± SF facility on 2.46± acres
10:00 AM EDT, Wednesday, March 31, Kalamazoo, MI – 4,754± SF facility on 1.8± acres
3:00 PM EDT, Wednesday, March 31, Bryan, OH – 5,764± SF facility on 2.21± acres
10:00 AM EDT, Thursday, April 1, Kirkville (Syracuse), NY – 13,040±SF facility on 10± acres
12:00 PM EDT, Thursday, April 1 – Syracuse, NY – 14,612± SF facility on 2.54± acres
11:00 AM CDT, Friday, April 2 – Big Spring, TX – 9,800± SF facility on 3.85± acres
This is a public auction and everyone is invited to attend. Previews will be held one hour prior to each auction. Complete information, including downloadable Property Information Packets, is available at http://www.higgenbotham.com or contact Earl Williams at 800-257-4161.
About Higgenbotham Auctioneers International Ltd., Inc.
Founded in 1959, Higgenbotham Auctioneers International ("HAI") is headquartered in Lakeland, Florida and specializes in the sale of real estate throughout the United States and the world by utilizing the auction method of marketing. HAI is an alliance partner of NAI Global and enjoys continuing relationships with Fortune 500 clients such as Alcoa, International Paper, Wal-Mart Realty, and Sinclair Oil, as well as many other publicly traded and closely held companies.
###