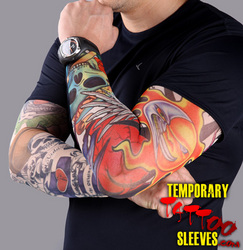 Temporary tattoo sleeves can be applied and removed in 20 seconds and are reusable over and over again.
(PRWEB) April 8, 2010
With the launch of the new website TemporaryTattooSleeves.com, customers can now replicate the look of a full arm of tattoos. This look is commonly referred to as a "tattoo sleeve." Temporary tattoo sleeves can be applied with absolutely no pain or needles. Further, where real tattoo sleeves can be quite costly and time-consuming to "ink", the products at TemporaryTattooSleeves.com cost $5.99 per sleeve and can be applied within seconds.
Temporary sleeve tattoos can compliment a variety of Halloween costumes or outfits for stage performance. Those seeking to create rocker, goth, or punk rocker looks will find TemporaryTattooSleeves.com to offer the ideal solution. The realistic effect of fake tattoo sleeves make for a great prank on friends and family. Temporary tattoo sleeves are also the perfect accessories for fairs, concerts, parties and other special events.
This product recently became a much sought after item after it was mentioned in a recent episode of "The Big Bang Theory." In the episode, characters Howard and Raj decide to wear black eyeliner and temporary tattoo sleeves to a Goth club. This is a scheme they have concocted in hopes of meeting and impressive Goth women. The vivid and creative look of tattoo sleeves also have been prominently featured in other media including the Fox television program "Prison Break." In this show, the main character Michael Scofield dons a full body of tattoos in order to chart out a complex system for breaking his brother out of prison.
Temporary tattoo sleeves can be applied and removed in 20 seconds and are reusable over and over again. The options for fake tattoo sleeves are in a wide variety of categories which include tribal tattoos, dragon tattoos, flower tattoos, and Celtic tattoos, just to name a few. The stretchable material of temporary tattoo sleeves is one size fits all. The products can be shipped worldwide and come with a 7-day money back guarantee in the case that customers are not thoroughly satisfied with their tattoo sleeves.
About TemporaryTattooSleeves.com:
Temporary Tattoo Sleeves provide the illusion of an arm fully covered by tattoos. This fun, creative product is suitable for all ages and takes only seconds to apply. This product is covered by a 7-day money back guarantee and can be shipped worldwide. Customers who order more than two temporary tattoo sleeves will receive free shipping on their order. TemporaryTattooSleeves.com is operated by the Australia based company Mojo Direct Pty Ltd. More information is available at http://www.TemporaryTattooSleeves.com.
###