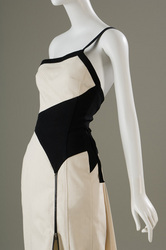 New York, NY (Vocus) April 2, 2010
The Museum at FIT presents Eco-Fashion: Going Green, an exhibition exploring fashion's relationship with the environment. "Eco-fashion" refers to the work of designers who use, produce, and/or promote sustainable, ethical, and environmentally-conscious products. Although eco-fashion is one of contemporary fashion's most compelling practices, fashion and the environment have had a longstanding, multifaceted, and complex connection rarely explored
Featuring more than 100 garments, accessories, and textiles from the mid-18th century to the present, Eco-Fashion: Going Green will examine positive and negative environmental practices over the past two centuries, providing historical context for today's eco-fashion movement. The exhibition will emphasize how each stage of fashion production—from fiber to finished garment—has environmental consequences. The extensive range of contemporary examples in the exhibition will showcase the commitment of both designers and consumers to meet these environmental challenges.
Eco-Fashion: Going Green will begin with some of the finest examples of sustainable fashion by current, cutting-edge labels, including Edun, Bodkin, FIN, and NOIR. The approaches these brands take to social and environmental issues will act as lenses through which the exhibition will view the historical garments and their various effects on the environment.
The earliest object on display will be a silk brocade gown, circa 1760. Eighteenth-century silk was painstakingly woven on hand looms, making it costly, complex to manufacture, and cherished. Since garments with lasting value are integral to today's eco-fashion movement, this gown will act as a chronological starting point for the exhibition.
The garments and objects in Eco-Fashion: Going Green will reflect at least one of six major themes:

the repurposing and recycling of materials
material origins
textile dyeing and production
quality of craftsmanship
labor practices
the treatment of animals
The repurposing and recycling of textiles is sometimes considered the most innovative and responsible mode of eco-fashion. Historically, this concept has taken a number of forms. A dress circa 1840 was remade from an exquisite yellow, striped silk from the previous century. Highlighting the emphasis on recycling in the 1990s will be a Xuly-Bët dress incorporating worn sweaters and pantyhose.
Practices associated with the growth and manufacture of fibers have some of fashion's most environmentally destructive consequences. Although cotton is often viewed as a "natural" fiber, its production has often been especially damaging. The display of two dresses circa 1820 will emphasize that cotton growing during this time drained soil of nutrients and depleted water supplies— environmental concerns magnified by the introduction of dangerous pesticides and chemical fertilizers in the 20th century. Today, organic cotton is used to make everything from basic T-shirts to a dramatic, one-of-a-kind evening gown by the influential eco-label Edun.
The color of an acid green, silk dress circa 1860 was likely achieved by using a dye that contained arsenic. This dye presented serious health risks to both maker and wearer. Waste materials from dyeing processes have historically been one of the most conspicuous forms of pollution. Today, there are a number of sustainable alternatives. Clothing on display by Katie Brierley, designer for Isoude, uses natural plant dyes and the disappearing art of traditional hand-dyeing.
Some eco-designers and fashion industry experts cite quality craftsmanship, convertibility, and uniqueness as key to the creation of clothing with lasting value and emotional connectivity. This point of view has historical roots as well. For example, a dress circa 1889 by Mrs. M. A. O'Connell will exemplify the rising significance of the "named designer," to contrast the increase of mass-produced clothing.
The health and treatment of industry workers also play a key role in the historical roots of eco-fashion. In the United States, organizations like the International Ladies' Garment Workers Union (ILGWU) were established to ensure fair labor practices in the early 20th century. A lavishly embellished evening dress circa 1941 was made by the New York Dress Institute, a successful partnership between local manufacturers and the garment workers' union during World War II. Also on view will be work by contemporary designer Yeohlee, who, in addition to her efficient "no waste" techniques, campaigns to keep garment manufacturing in New York. Even before the rise of animal rights activist groups, the use of fur, feathers, and animal skins in fashion was a subject of debate. A raccoon fur coat, fashionable among collegians in the 1920s, will be displayed next to an opera cape bearing a lavish fur collar. As even the use of leather is debated today, the inclusion of contemporary shoes by cruelty-free label Charmoné will rival those made from animal materials.
Eco-Fashion: Going Green is organized by Jennifer Farley, Colleen Hill, and Tiffany Webber. The exhibition will be on view in the Fashion and Textile History Gallery at The Museum at FIT.
Support for this exhibition has been provided by the Couture Council.
A Fashion Museum:
The Museum at FIT is the only museum in New York City dedicated solely to the art of fashion. Best known for its innovative and award-winning exhibitions, which have been described by Roberta Smith in The New York Times as "ravishing," the museum has a collection of more than 50,000 garments and accessories dating from the 18th century to the present. The Museum at FIT collects, conserves, documents, exhibits, and interprets fashion and its mission is to advance knowledge of fashion through exhibitions, publications, and public programs. Visit http://www.fitnyc.edu/museum.
The museum is part of the Fashion Institute of Technology (FIT), a college of art and design, business and technology educating more than 10,000 students annually. FIT, a college of the State University of New York (SUNY), offers 44 majors leading to the AAS, BFA, BS, MA, and MPS degrees. Visit http://www.fitnyc.edu.
Museum Hours:
Tuesday-Friday–noon-8 pm; Saturday–10 am-5 pm
Closed Sunday, Monday, and legal holidays. Admission is free.
All photographs by Eileen Costa, courtesy of The Museum at FIT, New York.
Cheri Fein
Executive Director of Public and Media Relations
212 217.4700 or press(at)fitnyc(dot)edu
###