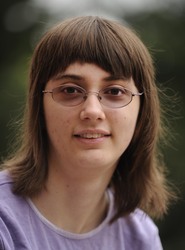 This new research would help to further my understanding both of biological rhythms and of neuroscience.
Indiana, PA (PRWEB) April 14, 2010
The Barry M. Goldwater Scholarship and Excellence in Education Foundation has named an Indiana University of Pennsylvania student as a winner in its national competition.
Kelsi Lindblad, a junior biology major from Farmington, Mich., a member of the Robert E. Cook Honors College and biology honors program, was one of only 278 students chosen for the award.
Lindblad's selection for the scholarship makes five IUP Goldwater scholars in the last seven years.
Lindblad, daughter of William and Linda Lindblad, Nine Mile Road, is a 2007 graduate of Farmington High School. At IUP, she is president and co-founder of the Asian Studies Club, a member of the Sigma Tau Delta English Honor Society and the Journal Club, and a volunteer with the Indiana Arts Council.
In summer 2009, she completed an internship at the Maine Institute for Human Genetics and Health. She has been a presenter for the 2009 and 2010 IUP Undergraduate Scholars Forum and won third place for her poster presentation in the 2009 IUP Women in Natural Science, Mathematics and Technology competition. She works at the Cook Honors College as a Web site maintainer.
The Goldwater scholarship is awarded on the basis of academic merit to undergraduate sophomores and juniors who plan to pursue graduate study in mathematics, science or engineering.
The scholarship covers the cost of tuition, fees, books, and room and board up to a maximum of $7,500.
This year's recipients were selected from a field of 1,111 mathematics, science and engineering students nominated by the faculties of colleges and universities nationwide.
"Kelsi's selection for this national, competitive scholarship is another example of national academic excellence among IUP students," Dr. Tony Atwater, IUP president, said. "It demonstrates that our students are extremely competitive and well prepared to compete for national and international grants and fellowships. IUP is very proud of our students' continued success in securing these prestigious awards."
After graduation from IUP, Lindblad plans to continue her studies with the intention of earning a Ph.D. in neurobiology.
"I was very surprised to learn that I had won," Lindblad said. She credited the biology honors program; Dr. Mary Lou Zanich, IUP's local coordinator for the Goldwater competition; Dr. Janet Goebel, director of the Cook Honors College; and biology professor Dr. Robert Henrichsen for her preparation for the application process and for her research experiences.
Having originally come to IUP as a biology and English double major, Lindblad said she has always been interested in how human brains work. "I think it's a mysterious and fascinating field."
Her research at IUP and at the Maine Institute for Human Genetics and Health has focused on manipulating paramecia and observing ultradian rhythms in their behavior and investigating those rhythms in spontaneous movements made by human infants during sleep.
She hopes to expand that work to study the relationship between the ultradian and circadian rhythms seen in paramecia swimming behaviors in an attempt to determine if the rhythms are linked.
"This new research would help to further my understanding both of biological rhythms and of neuroscience, to help to prepare me for a graduate program in neuroscience by allowing me to explore elements common to all neuronal systems and to introduce myself to the field of neuroscience while also tackling a significant issue in the field of biological timing," Lindblad said.
Previous IUP Goldwater winners are Elizabeth Paladin, a chemistry major who won in 2007; Kristin Juhasz, a biology and anthropology double major who won in 2006; Thomas Baker, a chemistry major who won in 2004; and Brigid Mooney, a mathematics major who won in 2003.
The Goldwater scholarship program, founded in 1986, is designed to help alleviate the shortage of highly qualified scientists, mathematicians and engineers in the United States. According to the Goldwater Foundation, the scholarship is "the premier undergraduate award of its type in these fields."
Goldwater officials also note that recent Goldwater scholars have been awarded 73 Rhodes scholarships, 105 Marshall awards, 90 Churchill scholarships (nine of the 14 awarded in the United States in 2010), and numerous other distinguished fellowships.
IUP is a member of the Pennsylvania State System of Higher Education.
# # #