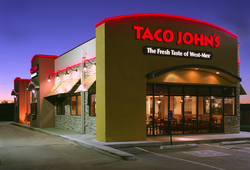 Our 40 year philosophy has been to go into smaller towns and communities and become their taco place.
Sioux Falls, SD (Vocus) April 2, 2010
Whiplash, the Cowboy Monkey, is retired. And TJ the DJ? The dude is grounded… his van permanently parked. In their place Taco John's® is launching a new marketing program that takes the quick service Mexican restaurant chain back to its roots.
Unlike most fast food chains, Taco John's® neither started in, nor focused on, large urban areas. The first restaurant was in Cheyenne, WY (population 40,914 at the time). Next came Scottsbluff, NE, Torrington, WY and Rapid City, SD. Forty years and more than 400 locations later, one of the largest Mexican restaurant brands in America still has an affinity for some of the small cities in the country.
Apparently the feeling is mutual.
Customer surveys reveal a common theme. People who grew up with a Town John's® in their hometown often associate favorite childhood memories with the restaurant: first dates, celebrating after the big game, sitting in a favorite booth with best friends.
The restaurant's new "My Town. My Taco John's®" campaign celebrates these time-treasured relationships. It encourages the kids who are now adults to share the hometown tradition of Taco John's® with their own families.
"Our 40 year philosophy has been to go into smaller towns and communities and become their taco place. What better way for us to celebrate the brand than to speak to those communities directly?" Renée Middleton, Vice President of Marketing for Taco John's®, says she's thrilled how well "My Town. My Taco John's®" resonates with customers and employees. "I hope they will see a little of themselves in each commercial and celebrate the partnership between Taco John's and their communities."
But don't confuse returning to its roots with ignoring the opportunities of today. Along with Lawrence & Schiller, their Sioux Falls, SD based advertising agency partner, Taco John's® is developing a digital strategy focused on a customer loyalty program using text messaging, text pictures, website and email marketing plus social media sites such as Facebook and FourSquare.
"A lot of agency employees grew up in Taco John's® towns," says Tom Helland, Senior Vice-President of Client Relations at Lawrence & Schiller, "so this campaign has been a labor of love for us."
MyTacoJohns.com will debut in July. But rest assured. Even though the technology is changing Taco John's® is staying true to its roots: generous portions of great-tasting food; served quickly, pleasantly and for a fair price.
Fast Facts:

In 1968 the "Taco House" opened in Cheyenne, WY.
In 1969 Harold Holmes and James Woodson purchase the right to begin selling "Taco John's®" franchises.
Today more than 400 franchised quick service Taco John's® restaurants are located in 24 states, primarily in the Midwest.
The signature product at Taco John's® is Potato Olés® - crispy, circular golden potato nuggets lightly seasoned with secret seasonings.
Taco Tuesday® is one of the most successful and recognizable Value Days offered by Taco John's®. Each Tuesday, hard shell tacos are sold at a special discount price. Taco Tuesday® started in 1983.
Links:

Social Media Links:

Contact:
Renée Middleton, Vice President of Marketing, Taco John's®
307-772-3943
###