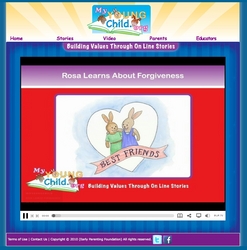 Barrington, IL (PRWEB) April 5, 2010
MyYoungChild.org, a web site of free online stories, which teach values to children 3-7, has added a new component to the site: 8 of the 16 beautifully illustrated stories now have an audio component. "We wanted to give parents and teachers the option to either read these stories aloud to their children, or to listen to the stories with them," said Wilbur S. Edwards, President of the non-profit Early Parenting Foundation. The read-aloud feature adds an important component to the site: listening to a story while reading along is a valuable way for children to learn how to read. With repeated 'read-alouds,' children begin to pick out and recognize the words of a story, especially with the guidance of a loving parent, caregiver or teacher. Reading stories out loud to children develops children's oral development, an important stepping stone to reading. The read-along feature will also enable children to read the story on their own, after they have initially read it with an adult. Audio will be added to the remaining eight stories by early summer.
The site has grown in popularity since its launch three years ago. Many parenting and religious organizations list MyYoungChild.org as a valuable resource and the site has become popular with educators, who link their classroom website to the site. In the last month alone, people from over seventy different countries visited MyYoungChild.org. Additionally, the site has 1,705 followers on Twitter, primarily parents who want to share it with others. MyYoungChild.org has also garnered attention from the press for the innovative, fresh quality of the stories and the illustrations, which teach children values in simple terms.
Some of the topics the stories deal with are: learning right from wrong, sharing at school, respecting friends and grandparents, telling the truth, being fair and responsible, developing patience, dealing with bullies, showing good manners, understanding why people pray and more. Each story is followed by parenting tips targeted to specific social and ethical skills—tips that explain to parents at what age children can understand different moral concepts, how to talk to their children about these issues, and examples of how parents can help their children develop values and ethics. A 3-minute online video illustrates through pictures and quotations the rewards of parenting, and is ideal to be used in a school setting with parents. All the materials on MyYoungChild.org can be downloaded and used freely with children, parents and educators.
MyYoungChild.org is a non-profit site developed by the Early Parenting Foundation. It was begun by Wilbur S. Edwards, a recent retiree from a long career in the educational video production market, who felt strongly that certain values were lacking in our society. He enlisted Nancy Morgan, an educational consultant, and Holly Bell, a preschool teacher and illustrator, to create the online stories. "Our stories give parents and teachers the tools so they can discuss important values with children such as honesty, integrity, respect, and civility—values that are so needed in our society today. Now we've added a reading component—which is critical for children's success," says Edwards.
For more information, visit MyYoungChild.org or contact Wilbur Edwards of the Early Parenting Foundation at 847.381.0768.
# # #