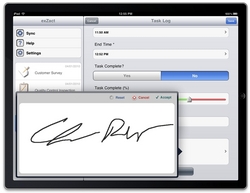 The level of interest and excitement we are seeing when we demo our solution on the iPad to prospective clients is truly amazing. Buckle-up, it's time to ride.
Herndon, VA (PRWEB) April 3, 2010
Zerion Software, developer of the exZact data collection platform, released a brand new port of their business grade, off-line data collection software for the Apple iPad, just two days prior to the much-anticipated launch of the new device. Available in the App Store on April 1st, this offering called exZact Pro is squarely aimed at making the iPad a legitimate business tool for the mobile workforce.
Existing clients can immediately use their forms on the iPad. All forms, logic and features that work on the iPhone and iPodTouch including offline capability will work seamlessly with the iPad version. With the addition of exZact Pro, clients can have a mobile fleet using the iPhone, iPod touch or iPad for data collection and work order management.
"With exZact Pro, clients can create a detailed inspections on the iPad, leveraging its ease of data entry, then forward the record to an inspector in the field running exZact on an iPhone to complete the record." says Chris Reichart, Partner, Zerion Software, Inc.
Not satisfied with a simple 'resizing' of the existing application, Zerion chose to make good use of the new hardware and features available for the iPad. From the traditional portrait view, to the new side-by-side landscape view offering split screen navigation and full size document views allowing enhanced map and video viewing, to the new pop-up widgets for element controls and menus, the exZact Pro enhanced user experience is now better than ever.
Anchored by a solid backend that supports form creation and assignment, user and account management, data viewing and data sharing, exZact Pro for iPad is truly a complete solution. Whether your needs are casual surveys, massive data collection or solutions that require workflow like asset, task or work order management, the exZact mobile platform has you covered.
"The larger form factor, screen-size, and navigational options will be a major benefit to some of our current clients, and the level of interest and excitement we are seeing when we demo our solution on the iPad to prospective clients is truly amazing. Buckle-up, it's time to ride." Sze Wong, President, Zerion Software, Inc.
Launched less than a year ago, the exZact mobile platform is already gaining momentum in many different industries. Deployed in more than 10 countries, the exZact platform is used by Fortune 500 and small businesses in many vertical markets including Utilities, Telecommunications, Facility Management and Entertainment. The exZact platform is especially well received within the academic research community, with Universities from around the globe using the platform for research studies to conduct surveys, complete daily diaries, and collect feedback.
"The iPhone gave us a push in the otherwise traditional field of data collection and work order management market. We think the iPad is going to take this market to the next level in terms of features, functions, and widespread adoption. The question will no longer be whether a business should pursue a mobile option, but how soon they can get their business onto one to keep pace with the rest of the marketplace. With the great form factor of the iPad, combined with the flexibility of the exZact platform, our clients in all industries including construction, engineering, education, medical, and market research, will see measurable benefits, and achieve greater job performance," said Sze Wong, President of Zerion Software.
"Our slogan for 2010 is 'Beyond Forms', meaning we will extend the platform to include other mobile work force functions such as work order management and task management. With the addition of the iPad, our platform will be more valuable to our clients."
Learn more at:
http://www.iformbuilder.com
http://www.zerionsoftware.com
http://www.exzactmobile.com
http://www.ipaddatacollection.com
Download exZact Pro from iTunes
About Zerion Software
Zerion Software is a mobile business applications product company. Founded in 2003, Zerion Software creates mobile applications for businesses of all sizes on emerging platforms including the iPhone, iPod Touch, Android, and iPad. Zerion Software's SAAS based mobile business applications help businesses reduce costs, increase productivity and improve customer satisfaction. Zerion Software's flagship product, exZact, is an award-winning, patent-pending, mobile platform that is being used across the globe in many different industries. exZact is targeted towards individuals and professionals alike, involved in general data collection, clinical trials, field services, research studies, task and work order management. Zerion Software, Inc. is located in Herndon, VA.
Zerion Software is an 8(a) certified small business.
# # #