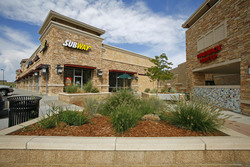 Companies and organizations who are truly interested in sustainability consulting should contact us to find out how to get started with a sustainability task force or how to restart sustainability initiatives that haven't really got off the ground
Tucson, Ariz. (Vocus) April 8, 2010
Five simple steps can help your corporation or campus sustainability catch fire, says leading sustainability consultant Jerry Yudelson. In fact, Yudelson says recent research shows that, "Incorporating corporation sustainability or institution sustainability into strategic planning can provide companies with a competitive advantage, open up new markets, help new product development, and improve a company's reputational equity."
The ongoing Great Recession makes saving money more important than ever, and yet the need to reduce corporate environmental footprints has never been more urgent. Yudelson says, "Sustainability consulting and strategic planning pull these disparate elements together." The sustainability consultant continues, "Using a sustainability framework helps identify economic, social, and environmental inefficiencies. Attacking the low-hanging fruit in inefficient operations leads to immediate savings that can fund future initiatives."
Through numerous sustainability consulting projects with trade groups, manufacturers, development firms, and universities, Yudelson Associates has developed five simple yet essential steps to establishing a corporation sustainability or other institutional sustainability program:
o Setting the vision
o Staffing the effort
o Establishing metrics to measure progress
o Implementing strategic initiatives
o Communicating the results to all stakeholders
Yudelson Associates' downloadable free white paper, "Corporate Sustainability" describes these five key steps and provides an overview of some important resources like the Global Reporting Initiative, the ISO 14001 environmental management system, and the Global Ecolabeling Network.
"Companies and organizations who are truly interested in sustainability consulting should contact us to find out how to get started with a sustainability task force or how to restart sustainability initiatives that haven't really got off the ground," said Yudelson.
About Yudelson Associates
Yudelson Associates is a leading international firm in sustainability planning and green building consulting. The founder, Jerry Yudelson, is widely acknowledged as one of the nation's leading green building and sustainability consultants. He is the author of 12 green building books, including the forthcoming Dry Run: Preventing the Next Urban Water Crisis (New Society Publishers, 2010), and recently served for two years as the Research Scholar for Retail Real Estate Sustainability for the International Council of Shopping Centers, a 70,000-member international trade organization. He is a frequent keynote speaker at industry and professional conferences around the world, and he chaired the U.S. green building industry's largest annual show, Greenbuild, for the past six years, from 2004 through 2009.
To learn more, visit http://www.greenbuildconsult.com or contact Jerry Yudelson at +1-520-207-9759.
# # #