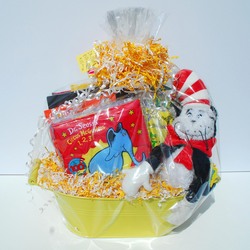 (PRWEB) May 7, 2010
The 4th Wall Gallery presents its newest creation located in its carriage house, The Story Book House. The gallery's collection of the finest original illustrations from children's picture books is now enhanced by the launching of The Story Book House, brimming with wonderful children's picture books and stunningly unique book gift baskets.
The children's book gift baskets are a meaningful and perfect present to celebrate the holidays, birthdays and/or any milestone in a child's development. These baskets are imaginative gifts for newborns to about fourth grade. When a child receives a Story Book House gift basket, you are sharing with them the gift of reading that will last a lifetime. The high quality, beautifully illustrated books will be treasured for generations and treated like family heirlooms. The gift baskets include carefully selected books arranged in a decorative reusable container and colorfully wrapped. The gift baskets can be customized for your specific celebration and/or reader's interests. (The book gift baskets are available for sale at $75, $150 and $250).
The 4th Wall gallery was named the best new gallery in Dallas in 2009 by D Home Magazine. Owners Kristine and Matthew Abramowitz have also been recognized by The Today Show, Fox News, the Dallas Morning News, Good Morning Dallas and KDFW Fox as excellent resources on children's books, original illustrations from children's books and their stunning book gift baskets. Matthew and Kristine Abramowitz state " We realized that Dallas was missing a children' s book boutique, that special place where young readers can find a picture book they love as well as meet the incredible authors and illustrators they admire. We have found that a child who meets one of their favorite authors and illustrators can be positively inspired to read and explore their own creativity."
The 100 year old quaint main house and carriage house on 2925 Fairmount Street in Uptown, offers a unique space that transports the art collector and book lover into a magically, imaginative world. One enters the main house, (The 4th Wall Gallery) to the welcome of the fabulous contemporary art collection and continues on into the fantastical world of original illustrations from children's books. You soon cross over the threshold into the carriage house (Story Book House), teeming with a wonderful selection of children's picture books and clever book gift baskets.
The Story Book House (http://www.thestorybookhouse.com) looks forward to inviting the young and young at heart to author and illustrator presentations. In addition, The 4th Wall Gallery and Story Book House may be rented for special events. The Story Book House at the 4th Wall Gallery is located at 2925 Fairmount Street, Dallas TX 75201. The gallery is open Tuesday through Saturday 10:00am - 6:00pm. The Story Book House offers a toll free number 1-888-90-STORY.
# # #