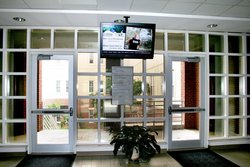 "With the Scala solution, GCSU's opportunity to communicate to the student body has greatly expanded, and it will allow the Student Government Association to simplify and better package a continuous flow of information to students"
Milledgeville, GA (PRWEB) April 14, 2010
Simplifying the flow of information is vital to communication and student involvement. That's why students and staff at Georgia College & State University (GCSU) worked together earlier this year to launch Bobcat Vision, the school's first digital signage network on campus.
GCSU worked with Capital Signs to install Bobcat Vision, which consists of 16 32-inch and three 42-inch high-definition displays powered by Scala software. The screens are mounted in various campus areas, including the student activities center, classroom buildings, faculty office buildings and student union dining hall.
"With the Scala solution, GCSU's opportunity to communicate to the student body has greatly expanded, and it will allow the Student Government Association to simplify and better package a continuous flow of information to students," said Andy Panos, Vice President of Capital Signs.
To run the network, GCSU obtained 12 licenses for Scala Players, Designer, Content Manager and Template Composer EX module. Capital Signs designed all of the graphics and templates stored in Scala Content Manager. Scala Designer is available in the student activities center, and it is used by the designated system administrator to build new templates and graphics for all users of the digital signage network.
Scala Content Manager allows student groups and campus members to add their own messaging to the templates, and it is available to all authorized students with Internet access. This gives them the ability to add messages from off-campus housing, as well as computer labs and dormitories.
"Once we really played with the software and functionality, we realized that it is extremely flexible and can be pushed as far as we want," said Billy Grace, a senator in the Student Government Association. "We're consistently finding new features and opportunities, and we know that as Bobcat Vision grows, we will continue learning how to improve the way we use it."
Currently, Capital Signs is integrating campus RSS feeds — the same ones that appear on the GCSU Web site — into Bobcat Vision. They have also installed a Scala Player that will drive Bobcat Vision to GCSU's campus cable network to reach the TVs of anyone on campus.
For a full case study, visit http://www.scala.com/news/studies/georgia-college-state-university.
About Georgia College & State University
Georgia College & State University, the state's designated Public Liberal Arts University, combines the educational experience expected at esteemed private liberal arts colleges with the affordability of public higher education. Its four colleges – arts and sciences, business, education and health sciences – provide 6,600 undergraduate and graduate students with an exceptional learning environment that extends beyond the classroom, with hands-on involvement with faculty research, community service, residential learning communities, study abroad and myriad internships.
Founded in 1889, Georgia College boasts one of the most beautiful campuses in the nation with Corinthian columns fronting red brick buildings and wide open green spaces. Georgia College also offers graduate education at the historic Jefferson building in downtown Macon, at Robins Air Force Base and online.
About Capital Signs
Capital Signs is a leader in the design, fabrication, and installation of premium custom architectural and digital signage. For more than 30 years, the Company has stayed on the cutting-edge of compelling and creative message delivery techniques. This includes their scalable, reliable, and intuitive digital signage solutions implemented in restaurants, retail stores, colleges, corporate offices, athletic arenas, and airports. Capital Sigjavascript:void(0);ns experience in superior system design, network hosting, content design, training, and customer service has allowed them to be successful in the marketplace, and to become a standard in digital signage applications. The company serves both National and Regional accounts including HMS Host, Brinker International, Coca-Cola, Hartsfield-Jackson Atlanta International Airport, Sbarro Pizza, and Aramark Dining. For more information, visit http://capitalsigns.com.
About Scala
Driving more than 300,000 screens worldwide, Scala is a leading global provider of digital signage and advertising management solutions. Scala is the world's first connected signage company, offering the leading platform for content creation, management and distribution in digital signage networks and the first unified platform for advertising management of both traditional and digital signage networks. The company's digital signage customers include Rabobank, IKEA, Burger King, T-Mobile, Virgin MegaStore, Warner Brothers, The Life Channel, Rikstoto, Repsol, NorgesGruppen, Audi, ECE Flatmedia, Kaufhof (Metro Group) and thousands more. Advertising management customers include CBS Outdoor, Clear Channel Outdoor and Magic Media, among others. Scala is headquartered near Philadelphia, USA, and has subsidiaries in Canada, The Netherlands, France, Norway, Germany and Japan, as well as more than 450 partners in more than 60 countries. More information is available at http://www.scala.com.
###
©2010 Scala, Inc. 350 Eagleview Blvd. Exton, PA 19341. Scala and the Exclamation Point Logo are registered trademarks of Scala.