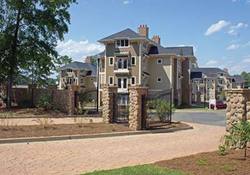 What an outstanding opportunity to buy Georgia and Florida real estate. This sale is not only for investor's, it is tailor made for the individual who recognizes value." Michael Brouse, Auction Manager
Lakeland, FL (PRWEB) May 4, 2010
Higgenbotham Auctioneers International (HAI) announced today that their firm has been retained to offer at auction 64 South Georgia and North Florida properties on May 11th and 12th with 45 properties being offered absolute to the last and highest bidder.
The vast property list includes, residential condominiums, office condominiums, residential lots, residential development tracts, commercial acreage and a luxury executive home. Many properties are being offered with owner financing and live Internet bidding is available for those who cannot attend the auction in person.
Auction Schedule:
10:00am - Tuesday, May 11th
Georgia Properties -
Great Gatsby's Fine Antiques
5180 Peachtree Industrial Blvd.,
Suite 107
Atlanta, GA 30341
10:00am – Wed., May 12th
N. Cen. Florida Properties -
Onsite at:
3372 3rd. Street
Elkton, FL 32033
6:00pm – Wed., May 12th
N. West Florida Properties -
Onsite at:
5105 Gulf Drive
Panama City, FL 32408
"What an outstanding opportunity to buy Georgia and Florida real estate. This sale is not only for investor's, it is tailor made for the individual who recognizes value. Absolute auctions provide the best buying scenario for all involved. On 45 of these properties the bidder sets the price with no reserves," stated Michael Brouse, an Auction Manager for Higgenbotham Auctioneers.
For more information about this auction please contact Michael Brouse at Higgenbotham Auctioneers 863-644-6681 or visit our website at Higgenbotham.com
About Higgenbotham Auctioneers:
Founded in 1959, Higgenbotham Auctioneers International (HAI) utilizes the auction method of marketing to sell real estate throughout the United States and the world. Higgenbotham's success is attributed to the company's stellar track record in marketing unique properties and the firm enjoys continuing relationships with Fortune 500 clients such as Alcoa, Wal-Mart, and Albertson's Supermarkets, as well as many publicly traded and closely held companies.
###