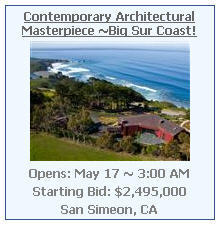 Real Estate Auctions have gained tremendous popularity
Ballwin, MO (PRWEB) May 16, 2010
Real Estate Auction Systems (REAS) will hold a Webinar on Thursday May 20, 2010 @ 1 PM CDT, 2 PM EDT, 11 AM PDT, demonstrating how real estate brokers & agents are successfully using online auctions to sell properties from $500 lots in mid-America to multi-million dollar homes on the coasts. To register click here: Free- Webinar: Success With Real Estate Online Auctions.
Tom Wood, REAS President & CEO works with top brokers, agents and auctioneers to customize and rebrand their own auction sites. He trains agents to use online real estate auctions for lead generation and sales as part of their marketing arsenal. Wood says, "The many benefits of buying and selling real estate at auction are no secret, the enthusiasm and excitement surrounding auctions is contagious. Moving them online just makes sense."
Joesef Jackson of Advanced Marketing Consultants (AMC) recently chose Real Estate Auction Systems (REAS) for his online auction platform. AMC has become the leading and most successful real estate auction marketing firm on the Central Coast of California. Jackson says "We needed the best in class online real estate auction platform and REAS was able to provide that for us. Real estate auctions have gained tremendous popularity among buyers who are seeking the true market value for properties in today's marketplace. Using an online auction to market a property gets our sellers more attention than traditional marketing methods." One notable example is the Estate Marinus, a contemporary architectural masterpiece situated on a 1.5 acre sanctuary on the Pacific Coast Highway of California's' Big Sur coastline. Online Bidding opens May 17th, with bidding starting at just under $2.5 Million.
About Real Estate Auction Systems:
Real Estate Auction Systems an independently owned LLC offers online auction solutions to the Real Estate Industry. Engineering and designing custom auction web sites and providing online sales tools since 2006, REAS is committed to providing advanced online auction systems to brokers, agents, real estate auctioneers, builders & banks; bringing property sellers and buyers together.
For more details on Real Estate Auction Systems visit http://www.reauctionsystems.com
###