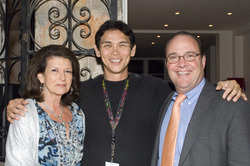 We are thrilled that our receptions were so well received and well attended
Plano, TX (Vocus) May 23, 2010
Odyssey Pictures Corporation (OPIX: OTCQB) (Odyssey), a media/marketing company, hosted two of the most popular and influential networking parties at the Cannes Film Market at this year's Cannes Film Festival (Festival de Cannes, May 12 – 23). Odyssey's strong presence at Cannes is in conjunction with the company's strategic financial advisor, Siguiente Capital (Siguiente), a European-based venture capital firm with a focus on emerging media and online marketing technologies.
Odyssey's two networking parties were held on Sunday, May 16th and Monday, May 17th at the elegant Villa Milroses, Odyssey's corporate accommodations at Cannes. Among the notable industry guests were action star Don "The Dragon" Wilson; Thai film star Rahayu Saraswati, whose latest film "Red and White" premiered at Cannes this year; Grahame Duffield and Roland Willcock, Principals at Turn of the Century Productions, LTD; Julia Lidner and Rani Isaksen, Principals at GrassTable Productions and Dominique Mougenot, Principal of DPM, Paris
"We are thrilled that our receptions were so well received and well attended," states Odyssey's President/CEO John Foster. "We had many more industry executives than we expected and very robust environments for deal making and relationship building"
Odyssey is exhibiting at two locations: Palais Niveau 01 – 24.11. at the Palais des Festivals, which is the center of the Film Market and the main screening area for the Film Festival, as well as at Riviera H.14, a large and well appointed 'Producer's Booth' the company is co-hosting with strategic partner Veland Films to provide a forum for film producers to present international co-production projects.
Odyssey is actively looking to make content acquisitions and licensing deals to add to Odyssey's growing library of children's and general interest programming. Siguiente is working closely with Odyssey to review and analyze specific terms regarding any potential involvement by Odyssey in co-production and international licensing and rights acquisition deals.
About Odyssey - Odyssey Pictures Corporation was founded in 1989 as a publicly traded entertainment company specializing in the financing and distribution of motion pictures. Texas based Odyssey has re-strategized over the past two years and adopted a more diversified business model including branding and marketing services targeting key clients in e-commerce, search engine positioning and online lead generation. The company is also engaged in content acquisition, multi-platform distribution, new media technology and corporate finance.
Forward Looking Statements - Certain statements contained herein are forward looking. These forward-looking statements are based on our current expectations and are subject to a number of risks, uncertainties and assumptions. Many factors could cause actual results to differ significantly from these statements, including our history of operating losses, our need for additional financing, a failure of our products to perform as expected, introduction of competing products by other companies, pressures on prices from competitors and/or customers, regulatory obstacles to new product introductions, lack of acceptance of our products and technology changes. These risks, uncertainties and assumptions are detailed in documents filed by us with the Securities and Exchange Commission. The Company cautions that the foregoing list of important factors is not exclusive. Any forward-looking statements are made as of the date of the document in which they appear. The Company does not undertake to update any forward-looking statement that may be made from time to time by or on behalf of the company.
Media and Investor relations contact: Dan Spelling at Spelling Communications
213/415-7400 dspelling(at)spellcom(dot)com
# # #