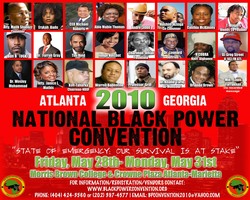 "THE NATIONAL BLACK POWER CONVENTION WILL NOT BE BEGGING PRESIDENT OBAMA TO DO FOR BLACK PEOPLE WHAT WE MUST DO TO DEFEND AND DEVELOP OURSELVES."- Convention Convener Attorney Malik Zulu Shabazz- New Black Panther Chairman/ Black Lawyers For Justice
Atlanta, GA (PRWEB) May 24, 2010
WHAT: News Conferences on This Weekends NATIONAL Black Power Convention and Black Power Convention Schedule of Events
WHERE: Morris Brown College, 643 Martin Luther King Drive NW Atlanta- Gymnasium
TIME OF NEWS CONFERENCES: Monday May 24th 1:00 PM and Wednesday May 26th at 1:00pm. Organizers will be present.
TIME OF CONVENTION: Friday, May 28th through Mon May 31st
Convention begins Friday May 28th at 12:00 noon Main Leadership Rally Begins at 6:00PM Friday.
Workshops on Saturday and Sunday Begin at 10:00 am and Premier Convention Rally on Saturday May 29th begins at 6:00pm.
Over 50 National Leaders and Organizations will attend.
Conference Convener Attorney Malik Zulu Shabazz anf Former Congresswoman Cynthia McKinney will deliver the Convention Keynote Speeches on Saturday Night May 29th
On Monday May 31st A Major Youth Power Rally will take place with popular artists Erykah Badu, Andre 3000 and other Major National Entertainers.
New Black Panther Party, Chairman Malik Zulu Shabazz, persists despite controversy.
The New Black Panther Party has been embroiled in a battle between Republican Congressmen and the U.S. Department Of Justice battle over a "voter intimidation" scandal for the last 18 months. During these 18 months right wing and Republican Newspaper and Electronic media have gone to exhaustive lengths to discredit and slander the New Black Panther Party and its Chairman and Attorney Malik Zulu Shabazz.
Despite the controversy the New Black Panther Party continues to grow and expand. The National Black Power Conventions impressive lineup of guests and organizations is a testimony that the New Black Panthers Leadership has support in wide circles in the Black Community, particularly amongst grassroots organizers and entertainers.
"With the rise of the Tea Party, the white-right and other racist forces. With gun sales nationwide at an all time high amongst whites, with a mood that is more anti-Black than any time recent, it is imperative that we organize our forces, pool our resources and prepare for war!" Chairman Malik Zulu Shabazz, Esq. Convention Convener and Party Chairman.
"This Years Convention will be better than ever because of the quality of presenters and the depth of the workshops and speakers." Minister Hashim Nzinga, Convention Co-Convener and Party Chief of Staff.
This Years convention will feature presentations from: Attorney Malik Zulu Shabazz- Convener (NBPP/BLFJ) Dr. Michael Roberts- The Roberts Group, CEO; Award winning songstress Erykah Badu; Hon. Cynthia McKinney- Former Georgia Congresswoman; Minister Hashim Nzinga - Co-Convener; DJ Greg Street V-103 Radio; Dr. Khalid Tariq Al-Mansour- Conscious Author- Entrepreneur; Warren Ballentine- National Radio Host; Dr. Leonard Jeffries (Warrior Historian -CUNY) Dr. Wesley Muhammad (Author/ Lecturer) N'COBRA/ Chairwoman Njeree Alghanee; Bun B-UGK; Chairman Omali Yeshitela- African Peoples Socialist Party; Andre 3000; - Outkast Janice L. Mathis, Esq. - Rainbow PUSH, Executive Director Kenny Gamble- Black Music Legend; Soulja Boy; Bob Brown-All African People's Revolutionary Party(GC); Chairman Kofi Taharka- National Black United Front; Antony Browder- renown Egyptologist; Hon. Chokwe Lumumba- Councilman (Jackson, Miss); Danny Bakewell, Sr.- President, NNPA; Dr. Farrah Gray- Author- Young Entrepreneur; Warrior Woman and Chief Ernie Longwalker- Lakota Nation; Professor Griff- Public Enemy; Agricultural Nation of Black Farmers; Dr. Comer Cottrell- Pro Line Founder Nation of Islam (ALL) Orlando Brown-Actor World African Diaspora Union (WADU) Trill Entertainment UNIA-ACL/ Pres-General Senghor Baye Honorable Minister Louis Farrakhan- Nation Of Islam; (Exclusive Pre-Recorded Message) Councilman Divine Allah- Trenton, NJ; Raymond Joseph - Haitian Ambassador; Pastor Ted Sutton- Baltimore Youth Activist; Original Black Panther Party Members; Minister Abdul Rahman - NOI Legend; Imam Akbar Bilaal- NBPP; Mukassa Ricks- Black Power Legend; 5% Nation of God's and Earths December 12th Movement Malcolm X Grassroots Movement; Ambassador Hughie Rose/ NBPP England President Kemiour A, Shabazz- NBPP France; Southern Christian Leadership Conference and others.
The Rallies, Teach Ins and Workshops will focus on the following issues: Black Politics in the Obama era; the attack on education; youth and gang violence in the Black Community; police misconduct and brutality; high incarceration rate amongst Black Men; Africa and the African Diaspora; self defense; the health crisis and host of hot button subjects:
Please Download and see the attached Schedule of events for the National Black Power Convention. http://www.blackpowerconvention.org
Interviews:
Contact Minister Hashim Nzinga Conference Co-Convener.
Email: bpconvention2010(at)yahoo(dot)com
Phone (404) 424-3560 and (202) 397-4577. Leadership is available for
Website: http://www.blackpowerconvention.com
http://www.newblackpanther.com
# # #