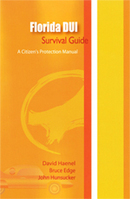 "David is continually studying, reading and immersing himself in the latest rulings and technology surrounding DUI law, not only in Florida but nationally."
Sarasota, FL (PRWEB) May 27, 2010
David Haenel, a founding partner of the Law Firm of Finebloom and Haenel a Florida DUI law firm, has released his first book called the Florida DUI Survival Guide: A Citizen's Protection Manual. The book is intended to help protect the citizens of Florida from overzealous DUI law enforcement and to help Florida drivers make sense of the confusing process surrounding a driving under the influence arrest.
"I have spent my entire professional life working with DUI cases as a prosecutor and defense attorney," said Haenel. "I wrote this book because I believe knowledge is power and I want to do everything I can to educate people about the way the DUI process works in Florida. Our system of law is better served by informed citizens and this book is a step towards better informing citizens of Florida about the DUI process."
The book was written as a public service according to Haenel and is intended to be used as a tool for Florida citizens to better understand the DUI criminal and administrative process. The book covers numerous topics including the myths surrounding DUI's, DUI felony convictions, driving under the influence with a commercial driver's license, field sobriety tests, breath tests, blood draws, DUI penalties in Florida, alternative sentences for a DUI, common mistakes made by police during a DUI investigation and how a DUI drug investigation differs from one involving alcohol.
"The DUI process in Florida is very confusing for people who do not work in this arena day-in and day-out," said Haenel. "There are so many facets to a DUI case in Florida. Most people who are arrested for driving under the influence in this state don't know that the arrest has triggered a two-part process involving administrative and criminal hearings.
"Once you understand even the most basic parts of the DUI process, there are so many more issues that come up along the way as the DUI case makes its way through the system. This book is intended to explain every possible facet of the DUI process in Florida. It is not a substitute for competent, experienced legal counsel but it does give the average citizen the power to ask the right questions and proceed through DUI process in an informed manner."
Haenel is an experienced DUI lawyer whose firm has offices in Sarasota, Tampa, Clearwater and Orlando. He was the 2004 DUI Prosecutor of the Year in Florida and he is a 10.0 rated lawyer by the independent legal rating service at Avvo.com. Haenel has given presentations to the International Association of Chemical Testers on issues involving evidentiary breath testing. Recently, he lectured during the annual Florida Breath Test Conference sponsored by the Institute of Police Technology and Management.
"David is continually studying, reading and immersing himself in the latest rulings and technology surrounding DUI law, not only in Florida but nationally," said law partner Darren Finebloom. "He has an intense drive to learn everything there is to know about the field of DUI enforcement and defense. He lectures on the topic, researches it voraciously and fights these battles on a daily basis. The book is a product of a lifetime of experience and an invaluable source of information."
About the Law Firm of Finebloom & Haenel
The Law Firm of Finebloom & Haenel serves clients in Tampa, Sarasota, Clearwater, Bradenton, St. Petersburg, Ft. Myers, Orlando and counties all over southwest Florida. The firm handles Florida DUI cases, criminal cases and statewide traffic ticket defense. David Haenel is a Florida Criminal Lawyer who founded his firm with partner Darren Finebloom in 2004.
# # #