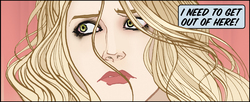 We're thrilled to present 'Dirty Little Secret', says US Marketing Manager for TRESemmé Jamie Schwab.
Melrose Park, IL (PRWEB) May 25, 2010
Move over Carrie, there's a new woman taking Manhattan – Riley Kendrick. "Dirty Little Secret," a new, graphic novel web series created in partnership ELLE and TRESemmé, follows six of NYC's most connected women around the Big Apple.
The 10-part series, which premieres on May 25th on ELLE.com/DirtyLittleSecret and the TRESemmé Facebook Fan Page (Facebook.com/tresemme), follows the new girl in town, aspiring hairstylist Riley Kendrick and her encounters with some of the most stylish and chic women in the fashion and beauty worlds. However, her "dirty little secret," which begins as a harmless omission, spirals out of control, leading to a web of deception. The compelling drama also features real-life TRESemmé Celebrity Stylist, Jeanie Syfu. As we all know, some of the best-kept secrets are spilled in the salon chair and Jeanie has heard some scandalous ones this season.
"Dirty Little Secret" is directed by Mark Warshaw, producer of "Heroes: Evolutions," the graphic novel and transmedia experience that incorporated storylines from the hit NBC drama. Warshaw and fellow Executive Producers, Tony Carenzo and Erin Carenzo are producing the project through their label Vine Intertainment, the production wing of The Alchemists Transmedia Storytelling Co. DLS marks the first collaborative writing project for Darin Mark and Rachel Mellon Choksey, each known for creating captivating storylines, witty female characters and compelling dialogue. Mark and Mellon Choksey have previously written feature films and network television for Disney, Warner Brothers, Castle Rock and NBC. Animator & artist Annie Wu from WildStorm, also known for her work on the upcoming comic book series "The Liberators," has created some of the most gorgeous hair and emotive faces with "Dirty Little Secret." To add a fashion finishing touch, ELLE's Fashion Director, Alexis Bryan Morgan styled the chic cast of characters drawing inspiration straight from the runways. Creative Artists Agency conceptualized and developed "Dirty Little Secret" for its client ELLE and helped assemble the multi-faceted creative team.
"We're thrilled to present 'Dirty Little Secret', says US Marketing Manager for TRESemmé Jamie Schwab. "We want to engage and entertain women on their terms and this series has everything – scandals, style, and of course, great hair."
Visit ELLE.com/DirtyLittleSecret and the TRESemmé Facebook fan page, Facebook.com/tresemme, to get the lowdown on all the girls' latest antics, scandals and styles when "Dirty Little Secret" premieres on May 25, 2010. Check out the fan page to get behind-the-scenes access to how the series all came together with interviews from the director, writers and illustrators.
ELLE is the #1 global fashion magazine, with 42 editions, 23 million readers, and 6 million copies sold per month worldwide. It is also the foundation of numerous brand extensions, including ELLE Décor (24 editions), ELLE A Table (five editions), and ELLE.com (27 websites with 11 million unique visitors). The U.S. edition reaches an audience of 5.3 million readers, who find in ELLE a rich mix of high and low that leads the reader to discover her personal style.
Contact:
Marla Weiss
Alberto Culver
708 450 2249
Jennifer Yu
Siren PR
212 625 3500
Erin Kaplan
ELLE
212 767 4615
###