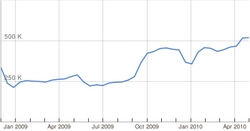 San Francisco, CA (PRWEB) May 26, 2010
SideReel is now the largest independent TV Property in comScore's Entertainment - TV category. According to the recently released April 2010 Key Measures report, comScore measured over 5 million monthly U.S. visits to SideReel. Google Ad Planner, which combines Google Analytics metrics and panel data, reports higher U.S. usage - 2.6 million visitors and 9 million visits. As an independent TV site, SideReel has the largest catalog of TV shows online, aggregating over 17,000 shows and 97,000 episodes from all networks and sources including Hulu, iTunes and Amazon.
SideReelers are primarily young (18-34), internet-savvy fans who watch over 10 hours of TV online each week. Regular users visit SideReel daily and watch more than 20 hours of programming online each week.
SideReel is the largest community of TV fans tracking shows online, with over 1 million registered users. SideReel makes it easy to track shows you've watched and want to watch, get new episodes as soon as they become available, and find the latest community news, reviews and gossip.
# # #